Russian Railways Invest €43m in Finland Railways
Russian Railways invest just under €43 million to reconstruct railway approaches to ports on the Gulf of Finland's southern shore this year. The railways to benefit from the investment are between Mga – Gatchina – Vaimarn – Ivangorod. Further plans include the commission of 28.2 km of station track, and electrification works to 122.7 km. Russian Railways will also finish the construction of sound barriers at Mga, Kikerino and Vaimarn stations.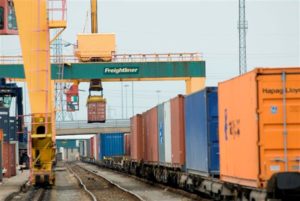 The Luga-Sortirovochnaya station will see the construction of 4.2 km of receiving and departure tracks, as well as four switching points in the departure yard, 12 sorting tracks and an extra connecting track featuring a flying junction on the line between Luga – Sortirovochnaya and Luga – Severnaya. 90km of electrification works will take place on station tracks.
The development of port railway infrastructure will go hand in hand with the commission of a main track from Luga – Sortirovochnaya to the Luga – Severnaya, station and to Luga Neftyanaya station.
There is also a planned programme of works to electrify tracks between Gatchina – Vaimarn – Luzhskaya, and Luga railway hub stations, the reconstruction of Kotlya station and a nw traction substation with an external power supply line between Novolisino and Gatchina.