Mass Transit Railway's (MTR) East Rail Line Cross-Harbour Extension has begun operating passenger services in Hong Kong.
The extension project completes the 46 kilometre East Rail Line that connects the Chinese mainland border to the central business areas on Hong Kong Island, allowing passengers from the Northeast New Territories and Central Kowloon to travel directly to Hong Kong without having to change.
The extended East Rail Line has become the fourth railway to cross Victoria Harbour. More than two thousand people celebrated the service commencement on 15 May with an inaugural ride that departed from the new Exhibition Centre Station at 5:25am and arrived at Hung Hom Station five minutes later.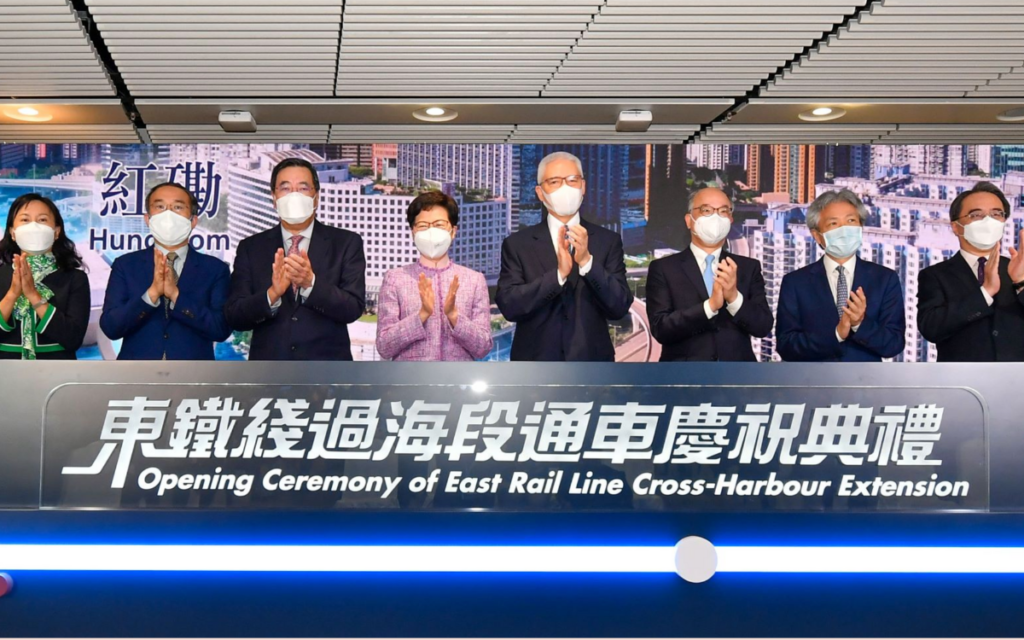 "I am delighted to have the community join us today in celebrating this important milestone of the East Rail Line crossing the harbour and local railway service entering a new era. It is our mission to 'Keep Cities Moving' and MTR will continue to make its best endeavours to provide safe, reliable and convenient railway service to passengers."
Hong Kong's extended East Rail Line leverages Siemens Mobility's Communications-Based Train Control system (CBTC), which has been installed at the railway's 16 stations. The radio-based technology captures real-time data on vehicle position and speed conditions, allowing the line to safely accommodate an increased number of vehicles. The upgraded digitalised system also continuously communicates system status updates to improve operational efficiency and reduce delays.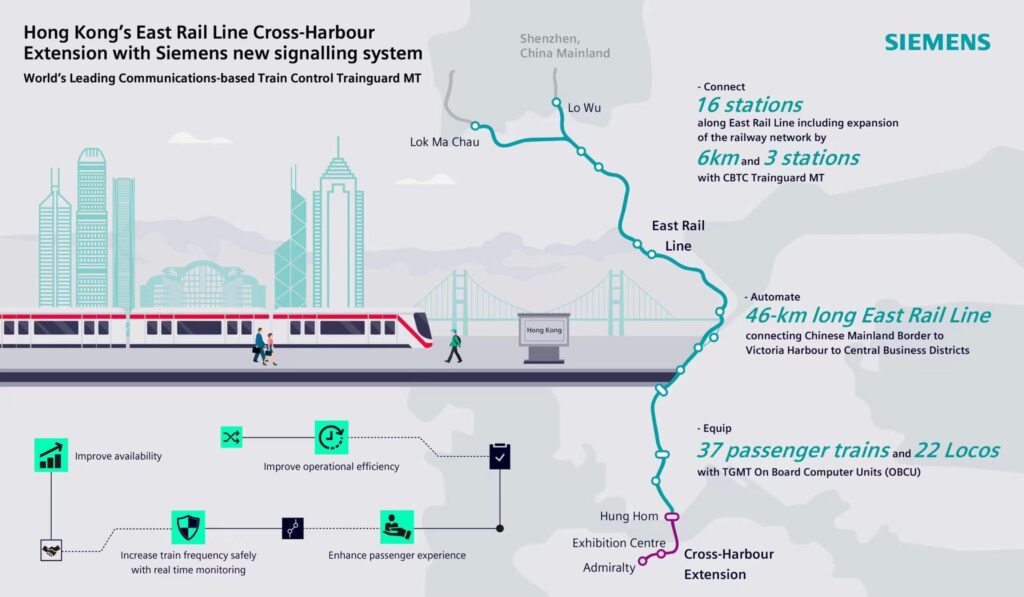 © Siemens Mobility
"The opening of the East Rail Line Cross-Harbour Extension is a significant milestone for public transportation in Hong Kong, which provides the people of Hong Kong with a fourth cross-harbour rail connection. Our state-of-the-art signalling solutions will increase the reliability, availability, and efficiency of the entire 46 km and 16 station East Rail Line. We have successfully implemented more than 40 CBTC systems across the world. This important project further underscores our leading position in the field of urban mobility."
Siemens Mobility's Airlink operations control system will provide automatic train supervision and control through the Electronic interlockings and Trainguard MT (TGMT) Wayside Control Units. Eventually, a total of 37 passenger trains and 22 locomotives will be equipped with Siemens TGMT On-Board Computer Units (OBCU), which will be controlled and monitored by the Operations Control Center in Tsing Yi.