Deutsche Bahn (DB) and Siemens Mobility have unveiled elements of their newly developed complete hydrogen system for rail.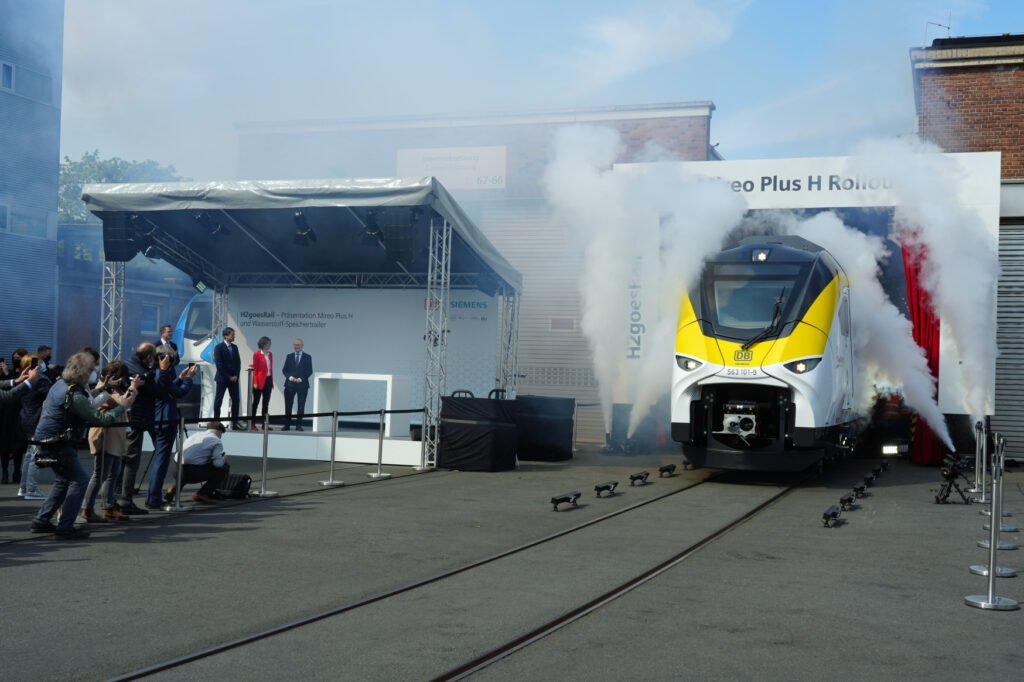 The two partners developed the system through the 13.74-million-euro (14.47m USD) H2goesRail project, which was funded by Germany's Federal Ministry for Digital Affairs and Transport (BMDV) as part of the country's National Innovation Programme for Hydrogen and Fuel Cell Technology.
"Alternative drives can help to reduce emissions from diesel traffic on rails. With H2goesRail, a project is being implemented that will not only test the use of hydrogen for rail, but will also advance it substantially. In this way, we can also drive almost climate neutrally on routes that could otherwise only be electrified with great effort."
The partners presented the Mireo Plus H ­– the latest generation of hydrogen train – and a newly designed mobile hydrogen storage trailer at a special event at Siemens' Krefield production site in Germany.
These will also be presented at InnoTrans 2022 in September.
The Mireo Plus H is as powerful as electric multiple units (EMUs), says Siemens Mobility, and provides the longest range of a hydrogen train to date – up to 800 kilometres as a two-car variant and 1,000km as a three-car variant.
It also offers greater acceleration, with a top speed of up to 160 kilometres an hour, and each train can also save up to 45,000 tons of CO₂ over a 30-year service life when compared to equivalent car journeys.
A key element in making hydrogen technology a competitive option is speeding up refuelling. With this in mind, DB has developed a new method that makes hydrogen train refuelling as quick as that of a diesel.
DB develops, tests and optimises the infrastructure required for the hydrogen supply. The hydrogen is generated at its Tübingen plant using green electricity from the overhead line. It's then stored in the mobile trailer, which is enabling new test projects on previously undeveloped routes.
"Hydrogen trains are an important building block on the way to climate neutrality. With our development of the mobile hydrogen filling station and the associated maintenance infrastructure, we're showing that we at DB are not only capable of mobility, but also of technology.
"And that's exactly what's needed for the climate friendly transport of tomorrow. Together with Siemens and the newly developed hydrogen train, we're creating an overall system that will take us another step towards phasing out diesel and make the fleet greener."
The Mireo Plus H will start test runs in Baden-Württemberg next year. From 2024 it will spend a year – and around 120,000km – in passenger service between Tübingen, Horb and Pforzheim.