Leaf Busting Trains to Keep Passengers Moving Through Autumn
Last week marked the start of Network Rail's high powered leaf busting trains rolling out across the South Western Railway route – they will travel the equivalent of twice round the world over the next three months clearing leaves and debris.
The trains are part of Network Rail's £4.5 million investment in the region to keep our tracks clear and our passengers moving through autumn.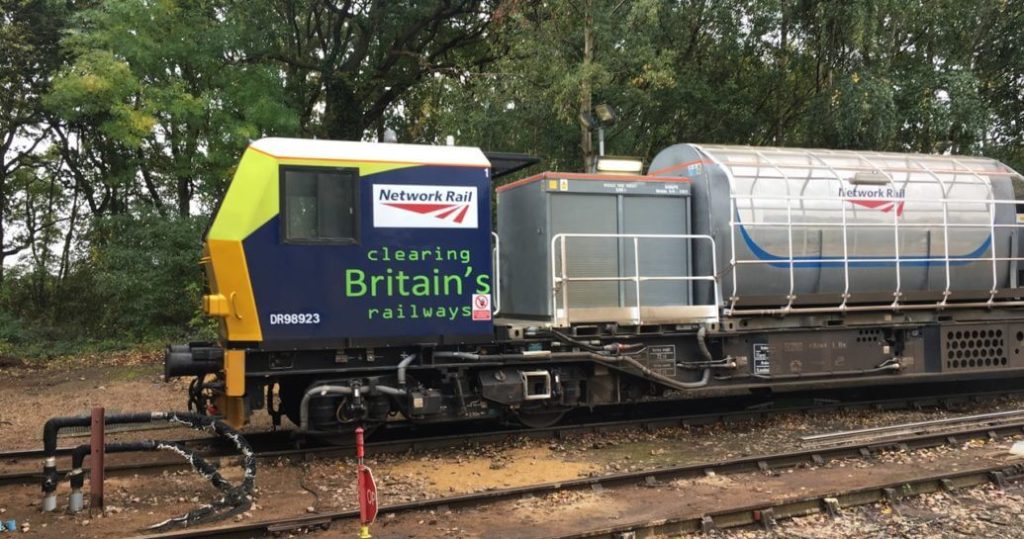 Leaf Busting Trains
From Waterloo to Weymouth, high pressured water jets mounted on the undercarriage of specially designed trains will clear debris and coat the rail in a unique sand-based gel. This means trains can better grip the tracks, reducing delays and improving safety.
With up to 70,0001 mature trees along our route, shedding around 210 million1 leaves over autumn, the leaf busting trains are in use 24 hours a day for three months.
Becky Lumlock, route managing director at Network Rail, said:
"We invest £4.5 million across the South Western Railway route to keep our tracks clear and our passengers moving over autumn.

"Leaves and foliage on the line can cause the same conditions as black ice on the roads, and with thousands of mature trees on our route, it's something we take seriously.

"That's why our leaf busting, and our teams of track side workers, are out there 24 hours a day, seven days a week, to make sure our tracks are safe and free from debris."
Keeping Passengers Moving
As part of our approach over autumn Network Rail also receives 'adhesion forecasts' from a specialist weather forecaster. This tells us where leaves are most likely to stick to the rails. Our world-leading intelligent infrastructure also monitors levels of electric current running through the track, which leaves and foliage can affect. All this means lineside staff can take targeted, prompt action to avoid delays to passengers.
Train drivers also receive refresher training in September using simulators to help them improve the skills needed to deal with 'slippery' rails.
Andy Mellors, Managing Director for South Western Railway, said:
"We work extremely hard alongside our industry partners at Network Rail to help reduce delays caused by autumn conditions, in particular leaf-fall.

"That's why we introduced minor adjustments to our timetable during autumn last week to take in to consideration these added seasonal challenges.

"Our drivers also adopt special driving techniques to make sure journeys are as safe and punctual as possible."
Original article © Network Rail.
FOR ALL THE LATEST INFORMATION, NEWS, IMAGES, VIDEOS AND ARTICLES ON ALL ASPECTS OF ROLLING STOCK, PLEASE CLICK HERE.