UK's First Tram Train Pilot Progresses
Network Rail engineers will complete vital milestones for the pioneering Tram Train pilot this summer, as work progresses to put the South Yorkshire scheme on track from 2018.
The second phase of work to assist in linking the Stagecoach Supertram network to the national rail network is currently underway, and will be completed on the weekend of 19 August.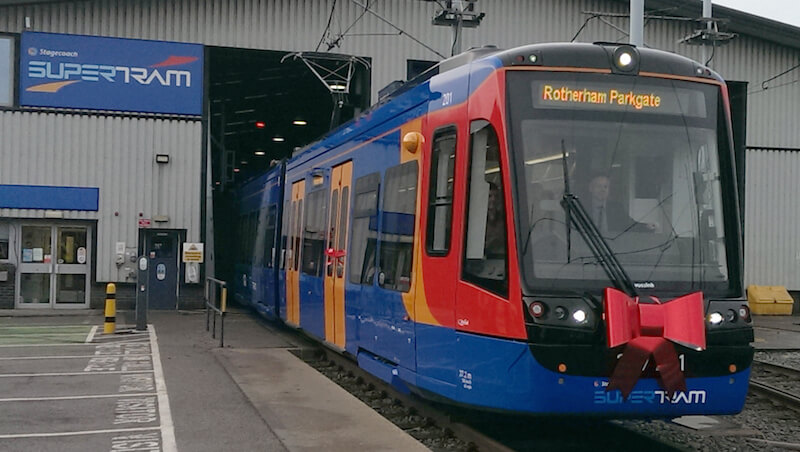 Tram Train Services A Reality
Passengers in South Yorkshire will be the first to ride on a Tram Train in the UK and, once further work is complete in 2018, these connections will allow Tram Trains to run seamlessly between Rotherham Parkgate, via Rotherham Central and Meadowhall into Sheffield city centre.
As well as the completion of the second phase of signalling, the weekend of the 19 August will also see work begin to install the new overhead line system, which will be used to power the Tram Trains.
Simon Coulthard, senior sponsor for Network Rail explained:
"Between Saturday 19 August and 0530 on Tuesday 22 August we will carry out work to link the new signalling for the Tram Trains into our existing systems.

"In order to minimise disruption to passengers and our freight customers the main work will be carried out overnight each night and scaled back in the daytime to allow some trains to run on the main lines. Unfortunately, because of its location, it is not possible to run any trains to or from Rotherham Central and replacement road transport will be provided.

"There will also be a number of Sundays where buses replace trains at Rotherham Central to allow us to safely install the new overhead power lines.  I am grateful to passengers for their patience while we carry out this work for this exciting project."
Essential Work Continues to Progress
Other work on the project continues with the new platforms at Parkgate and Rotherham Central stations progressing well. Due to the discovery of unmapped cables by the utility company, a road closure which is in place whilst work to raise College Road bridge in Rotherham takes place will have to be extended for an additional two weeks. The road will reopen on Friday, 1 September.
Simon added:
"We appreciate that this is disappointing to road users and we would like to thank them for their patience whilst we carry out this vital work. We are working closely with South Yorkshire Passenger Transport Executive and Rotherham Council on this issue.

"We would like to reassure people that this issue will not in any way interfere with the completion date of the overall Tram Train project and we are still very much on track for the introduction of a full Tram Train service for passengers in 2018."
Ben Gilligan, Director of Public Transport for South Yorkshire Passenger Transport Executive (SYPTE), added:
"This essential engineering work marks an exciting milestone towards making South Yorkshire's Tram Train services a reality, and the better passenger connections and boost to the local economy it will bring."
Original article © Network Rail.
FOR ALL THE LATEST INFORMATION, NEWS, IMAGES, VIDEOS AND ARTICLES ON ALL ASPECTS OF INFRASTRUCTURE, PLEASE CLICK HERE.