First Upgraded Inter7City High-Speed Train to Enter Service in Scotland
ScotRail has announced that it is about to get another step closer to its goal of building "the best railway Scotland has ever had".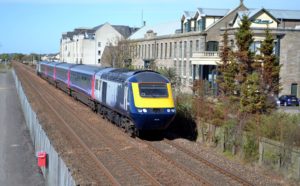 Starting on 15 October (Monday) the first upgraded high-speed Inter7City train will enter service between the cities of Aberdeen and Edinburgh. These trains will link up seven of Scotland's cities, hence the name. This service will benefit commuters, other business travellers, leisure travellers and tourists.
Inter7City Key Features
ScotRail says the main features of these high-speed Inter7City trains are their increased seating capacity, their increased luggage capacity, power sockets at the seats, a greater number of on-board toilets and improved on-board hospitality services. Customers will enjoy better connections within Scotland while ScotRail hopes this new rolling stock will allow it to successfully implement its new timetable starting on 9 December.
Alex Hynes, ScotRail Alliance Manager Director, said:
"This is another major milestone in our plan to build the best railway Scotland has ever had.

"Our Inter7City service will provide more seats, better services, and more comfortable journeys for our customers.

"The investment we are making in these iconic trains is a clear sign of the ScotRail Alliance's commitment to building a bigger and better railway for the whole of Scotland."
Michael Matheson, Cabinet Secretary for Transport, Infrastructure and Connectivity, said:
"The entry into service of the first fully upgraded high-speed train (HST) is to be welcomed and I look forward to seeing more follow in the months ahead.

"Passnegers have looked forward to the arrival of the fully refurbished HST fleet which will bring significant improvements for travellers on our inter-city routes between Scotland's seven main cities. ScotRail and Wabtec, its supplier, have given assurances they remain focused on ensuring the full fleet is in service as quickly and efficiently as possible, meaning even more passengers will soon benefit from faster trains which have the latest standard of comfort, accessibility and catering provision.

"The boost in seating provision will help support the overall 23 percent increase in capacity being delivered during 2019 as rail continues to grow in popularity across Scotland."