$121.6m Union Pacific Investment into California Network
Union Pacific has announced plans to invest $121.6 million into California's transport infrastructure over the course of 2016. The private investment is intended to improve safety for staff, communities and passengers, as well as to improve operational efficiency.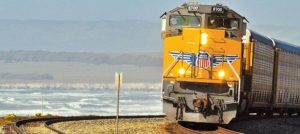 Union Pacific operates without public funding, and therefore its railroad relies on private investment to maintain employment levels and to enable the company to meet the demands placed on the railroad to deliver freight, supporting the US economy.
Union Pacific Investment
The $121.6 million will be split into two areas: $104 million will be invested in track maintenance and $17.3 million will be invested in bridge maintenance. Flagship projects for 2016 include:
$5.1 million on the Galt to Stockton line (replacing 37,277 railroad ties)
$5.8 million on the Fresno line (replacing nearly 12 miles of rail)
$5.2 million on the Delano and Bakersfield line, (replacing 38,882 railroad ties)
This programme of works is part of an ongoing investment strategy of more than $467 million spent between 2011 and 2015 on California's rail infrastructure.
Wes Lujan, Union Pacific vice president – Public Affairs, Western Region, said:
"We constantly evaluate our customers' needs to make targeted investments that enhance our efficiency and deliver the goods American businesses and families use daily. Continuing to aggressively invest in our infrastructure is an important element in Union Pacific's unwavering safety commitment."
The renewal and maintenance works in California are part of a $3.75 billion investment in 2016. $513 million will be invested in Texas in 2016, and $83 million in Arkansas. It is part of a ten year, $33 billion investment programme to improve the entire Union Pacific network. This investment has led to a decrease in derailments of 25% in that time, and has led to an award-winning safety record for the company.