Belgian 'Beer Train' to Keep Lorry Loads off Busy Roads
The first beer train has arrived in Ninove, Belgium, thanks to a unique collaboration between Delhaize, AB InBev, Lineas, Development Agency East Flanders and Remitrans.
The train will run three times a week between Jupille and Ninove, promising to keep 5000 lorries off the road per year. The aim is to use this pilot project to attract other partners.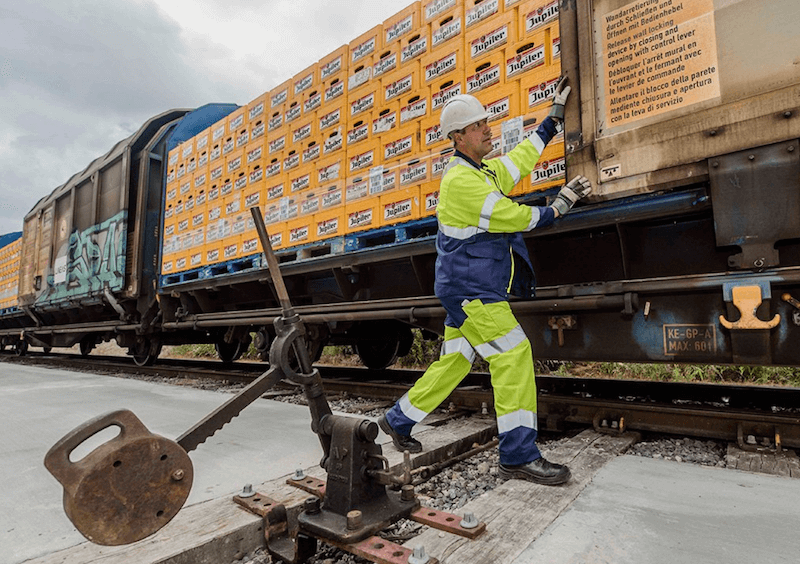 A More Sustainable Method of Transport
The pressure on our roads increases daily. This causes ever-longer traffic jams, increased mobility problems and negative environmental effects. But something can be done about it: for example by looking for sustainable alternatives for road transport. Certain road transports can be shifted to the railway or inland shipping. A possibility that becomes very concrete through the beer train!
The positive effect will mainly be felt on the Ring road around Brussels, where most of the transport took place. Fewer lorries on the roads will also mean lower carbon emissions and fewer traffic jams.
Lineas CEO, Geert Pauwels, said:
"Lineas has set the objective to offer such competitive and high-quality rail products that enterprises consciously choose the railway. This collaboration, in which a retailer like Delhaize transports a consumer product like beer by rail, is new in Belgium. Thanks to this kind of innovative rail solutions, which we develop together with clients, we can breathe new life into the railway and make an important contribution to achieving climate objectives and reducing traffic jams"
Flemish Minister of Mobility, Ben Weyts, added:
"The beer train deserves to be copied. Companies don't have to stare blindly at traffic jams at their front doors: there are often excellent alternatives for the traffic jams at the back door, like waterways or railways. When partners work together and look at alternatives with an open mind, thousands of lorries can be removed from our roads"
In the UK, DB Cargo will run more than 15 train services a week under a new 10 year deal with Day Group, keeping the equivalent of more than 190 lorry loads a day from the congested roads of South East England.
Original article © Lineas.
FOR ALL THE LATEST INFORMATION, NEWS, IMAGES, VIDEOS AND ARTICLES ON ALL ASPECTS OF ROLLING STOCK, PLEASE CLICK HERE.