The hearing for the new Transport Commissioner Designate, Adina-Ioana Valean, took place on 14 November. Following the Romanian MEPs opening statements to the Committee on Transport and Tourism (TRAN), the committee members had a chance to ask her questions to determine her fitness for the role.
Central topics at the hearing were the European Green Deal, decarbonisation, digitalisation and by association cyber-security, the budget for the Connecting Europe Facility, and accessibility, both for individuals with reduced mobility and for those living in the more remote regions of the European Union.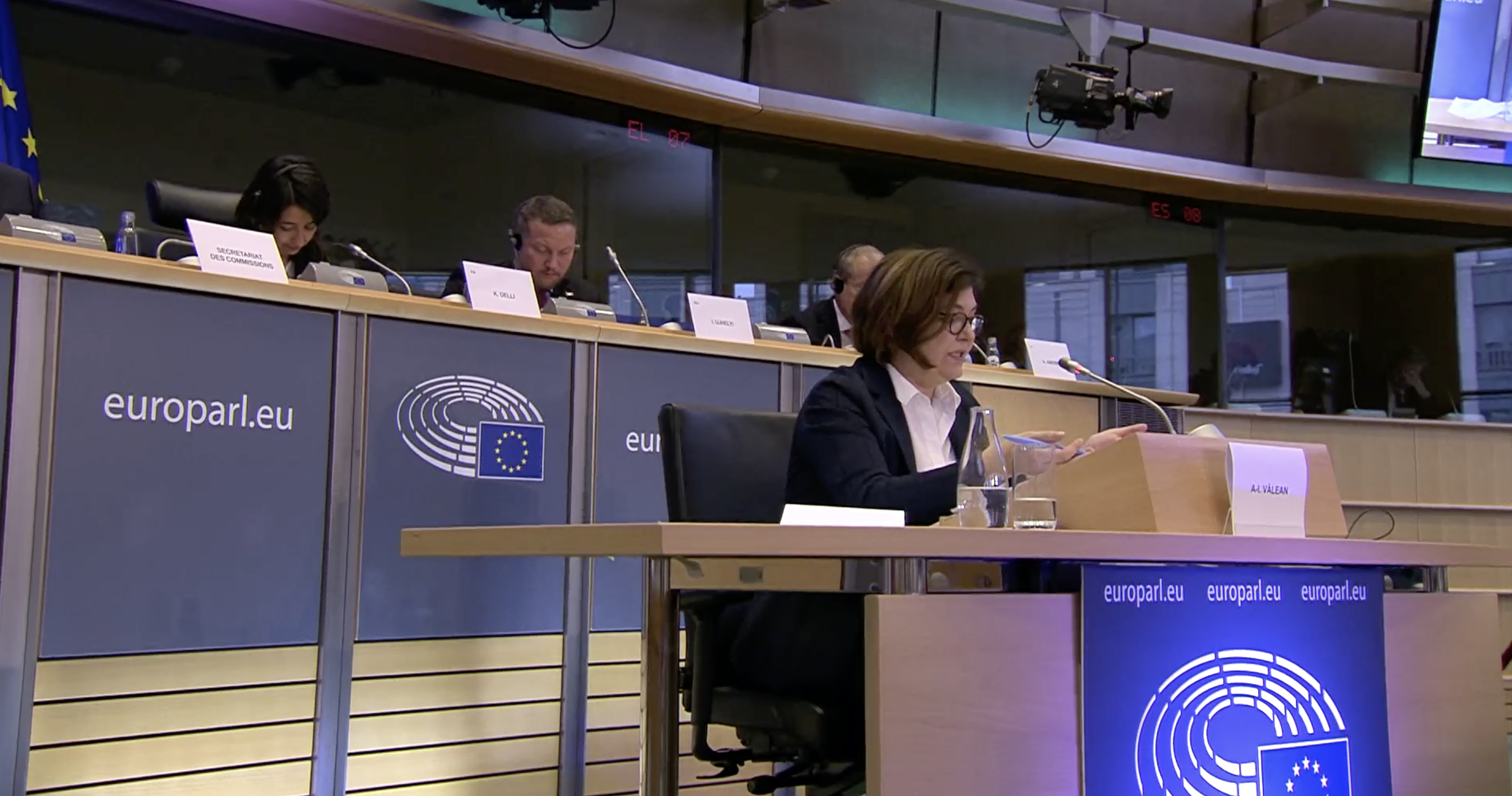 Opening Statement
She opened with a positive message about the European ideal and values: the free movement of people, goods, capital and services.
"[...] the benefits for EU citizenship, the freedom to live, work, study and do business anywhere in Europe is one of the citizens value the most. Transport makes this possible. Mobility and transport are the backbone of the internal market and support the freedom of movement of citizens and goods. They connect people and help strengthen cohesion across the European Union and thus play a key role in its integration and development. We are in a new era, so with accelerated innovation and transformation bringing many new challenges and opportunities. It will be my duty as Commissioner for Transport to work in close co-operation with the European Parliament as well as with the Council towards making this changes work for everyone."
These words echo Commission President Ursula von der Leyen's words in her mission letter to Ms. Valean.
"Transport delivers the freedom for people, services and goods to move freely within our Union. It connects people from different regions and countries and brings us closer together. Demand for transport continues to rise as our economies and societies become more integrated. This is creating new innovation and investment opportunities, but also new challenges for the sector.
"The transport sector will have an important contribution to make in harnessing the potential of the twin climate and digital transitions. To become the world's first climate- neutral continent, Europe must reduce emissions further and faster. Transport will be a central part of the European Green Deal."
Having been the chair of the Environment Committee, she highlighted the EU goal of becoming carbon-neutral by 2050 and stressed the role transport would play in the delivery of the Green Deal. And of course, von der Leyen said the Transport Commissioner brief would sit under the guidance of the Executive Vice-President for the European Green Deal.
"A European green deal must ensure that Europeans are able to enjoy affordable access to sustainable and smart mobility. The greening of mobility must serve our citizens, businesses and economy in the best way possible.
I will work hard to reduce the environmental footprint of mobility and transport activities and make sure our actions further contribute to the reduction of carbon emissions and improve their quality. All of this must be an economic success if we want citizens to embrace it and the world to follow our lead."
Ms. Valean recognised, however, that if the transport sector continued only with its current measures, it would reduce its carbon emissions by 20 percent by 2050, a far cry from the 90 percent needed for a climate-neutral economy. To redress this issue, she said action was necessary in three areas:
incentivising direct consumer choices and low-emission practices
improving efficiency across the entire transport system
increasing the uptake of clean vehicles and alternative fuels
Making the leap to cleaner transport must also take into account social factors, she stressed.
"In general it should be the users who shoulder the cost of their trips, not society as a whole. However, pricing will only work if more sustainable alternatives remain attractive, affordable and available. Otherwise, change will be at the expense of disadvantaged groups or peripheral regions, which would be unacceptable."
Addressing the right to freedom of movement, Ms. Valean said this right applied to every EU citizen, regardless of location, income or special needs. Everyone, whether it be citizens living in remote areas or those with restricted mobility, needed to be able to access this right.
Ms Valean also addressed the new EU budget. She said she was committed to defending the budget of the Connecting Europe Facility for the next financial framework.
Lastly, the Commissioner-Designate referenced von der Leyen's vision for her presidency.
"Thinking globally, the vision of the president elect is one of a geopolitical Commission. This is exactly what we need. We need Europe to maintain its multilateralism in on the global stage. For transport that means Europe needs to be a hub for all neighbouring regions but more importantly for global supply chains and passenger flows."
Questions for the Commissioner-Designate
MEPs questioning Ms. Valean wanted to know specifics, which she was often unable to give, not yet being fully familiar with her brief. She did, however, promise to learn very quickly. Questions focused on her plans to complete the Single European Sky and some MEPs questioned how this would fit in with decarbonisation goals. Ms. Valean also would not commit to implementing a kerosene tax, merely committing to not ruling this measure out.
On the other hand, some MEPs were worried the Green Deal would reduce Europe's competitiveness. But Ms. Valean was adamant she wanted a Europe that worked for everyone and that included a competitive Europe that protected jobs. This also meant communicating with citizens about reskilling because innovations and digitalisation in transport should not scare people – these developments will come with new jobs.
Also read: