EU Ministers Adopt Graz Declaration: A Green Deal for Europe
The European Rail Infrastructure Managers EIM RAIL have said that they, along with other associations in the railway sector – CER, ERFA, UIP, UIRR and UNIFE – welcome the adoption of the Graz Declaration which promotes a 'green deal' for Europe. With the Austrian Presidency of the Council of the European Union under way, EU environment and transport ministers met in Graz on 29 and 30 October, promising to transform European mobility, "starting a new era [of] clean, safe and affordable mobility for Europe".
EIM RAIL says:
"Rail has a central role to play in providing environment and climate-friendly transport and helping Europe meet its sustainability challenges, and remains the best solution for promoting safe, clean and green mobility."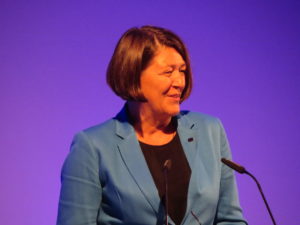 As part of the Graz Declaration, the ministers agreed to increase the efficiency and attractiveness of Rail by:
continuing to implement the Single Europeanway Area, with improved interoperability, especially by removing barriers at borders and putting in place consistent operating rules as well as a consistent solution for the operating language
work towards completing the TEN-T rail core network
increase financing for cross-border rail freight and passenger services that are of high enough quality in European funding tools
strengthen digitalisation and automation in rail
increase multimodality and connections with other modes of transport (bike parking, allowing bicycles on trains, etc.)
These initiatives for rail come alongside a whole host of transport plans to benefit the environment and human health through active transport, a field that rail is a key player in. The Declaration emphasises that there must be a modal shift from road to more sustainable forms of transport.
Rail is the greens and safest mode of land transport and is a key contributor to the EU economy.
EIM RAIL further says:
"At a time when transport remains a growing source of greenhouse gas emissions, the European rail associations reaffirm their strong support for the EU priorities and objectives of greening transport, and their willingness to work towards increasing the efficiency of the rail system for the benefit of all EU citizens.

"CER, EIM, ERFA, UIP, UIRR and UNIFE share the view that the Graz Declaration can mark the beginning of a new era of clean, safe and affordable mobility for the benefit of Europe's citizens, the environment, and society at large, and reiterate the importance of keeping rail at the heart of national and EU policies for a decarbonized and clean transportation of the future. The rail sector stands ready to intensify its collaborative efforts in acting as a backbone of a sustainable mobility in Europe."