DB Cargo is purchasing 50 Toshiba hybrid locomotives to make its shunting fleet more sustainable. This will make its overall rail freight operations more environmentally friendly.
Following a successful feasibility study on the joint development of a new hybrid locomotive, DB Cargo is now ordering the first 50 vehicles. The freight operator will also lease a further 50. The preparations for the assembly will begin in DB Cargo's maintenance facility in Rostock in 2021.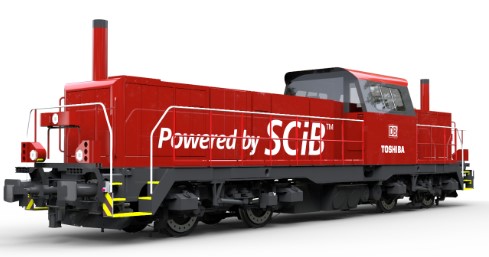 The 50 new hybrid locomotives will replace 61 old ones. They are a part of Deutsche Bahn's 'Starke Schiene' (strong rails) strategy, which is aiming at growth in the rail freight sector.
"Together with Toshiba we're setting standards in a crucial future technology. The alternative traction concept will allow us to conduct the work in our shunting yards in a more resource-efficient manner in the future: we're saving 30 percent of energy and one million litres of diesel per year. In addition the vehicles will be easier for our employees to operate thanks to modern technology."
In addition to using significantly less diesel and exhibiting lower maintenance costs, the hybrid locomotives also boast higher average fleet availability, making them a better-quality product for the customer. The battery modules can also be charged externally, which further increases the percentage of renewable energy in the rail freight sector.
"This is the beginning of a great collaboration. Toshiba is very proud to develop its first European shunting locomotive for DB Cargo. The locomotive combines the high European and Japanese engineering standards. Our Toshiba HDB 800 is equipped with the latest technologies, including our SCiB™ lithium ion battery system, which is certified by the TÜV Rheinland."
The battery system in Toshiba's hybrid locomotive fulfils the standard EN 50129 for SIL4 applications.
"The decision for Rostock is a fitting negotiation success and confirmation of Mecklenburg-Vorpommern as a place of innovation. The symbiosis between DB Cargo and Toshiba means more good and more sustainable jobs in the state. We need more long-term investments in machines and plants as well as in research and development. That will give our citizens greater financial security moving forwards."
Also read: