New Bergamo Trams Will Be from Škoda Group and Will Have Anti-collision System
Škoda Group, a leading global provider of transport solutions, has secured a momentous contract to produce 10 bidirectional trams for the city of Bergamo, including 3 years of full-service. The delivery of the trams is part of the larger contract that contains whole turnkey project of building new tram line.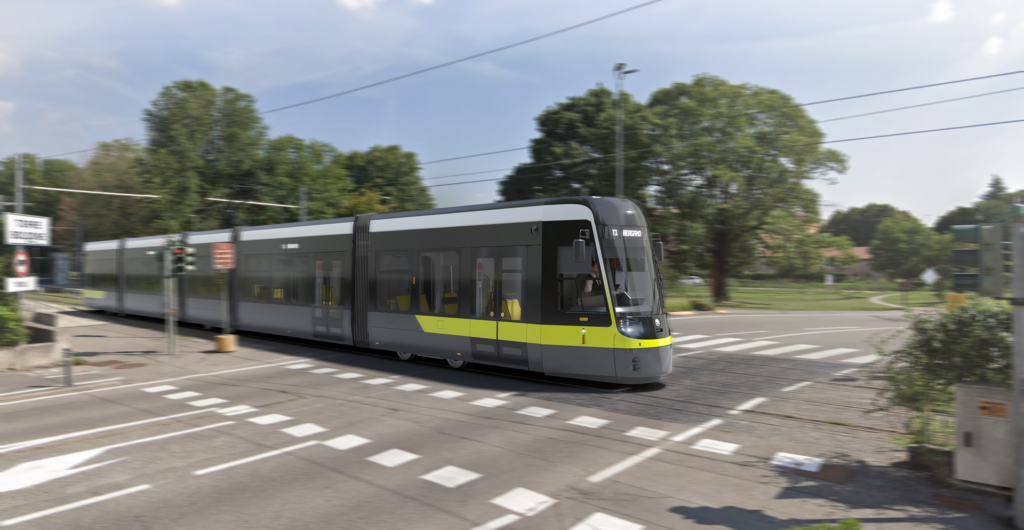 New second tram city line T2 will lead from the city centre to the northwest part of the city. The project is financed from PNRR (National Recovery and Resilience Plan). The trams are specifically designed for the new track set to be constructed in the city and out of its boundaries, marking a significant investment in sustainable urban transportation. The deliveries of the trams are scheduled to take place over the course of the next three years, enabling the city of Bergamo to enhance its public transport infrastructure and meet the growing demands of its residents. A proven platform type of Škoda Group's tram – ForCity Classic, chosen for this project – represents the epitome of modern tram technology. Bidirectional tram will have five sections and three bogies, two of which are equipped with traction motors.
"This success on the Italian market is a testament to our relentless pursuit of excellence and our unwavering dedication to meeting the evolving needs of our customers. I am very glad, that Bergamo has chosen our well proven platform solution that has even better parameters, than previous models. Opening our office in Florence last October has allowed us to better understand the Italian market and tailor our solutions to its specific requirements. We further emphasize Škoda Group's commitment to providing sustainable and efficient transport solutions that contribute to the overall well-being of communities."
With the announcement of this contract, Škoda Group solidifies its position as a key player in the international tram manufacturing industry. The delivery of these advanced trams to Bergamo represents a significant step towards enhancing the city's public transport system and underscores Škoda Group's unwavering commitment to innovation, safety, and customer satisfaction. As the group continues to expand its global footprint, it remains poised to provide cutting-edge transportation solutions that shape the future of urban mobility.
Increased Safety with Anti-collision System
Notably, these trams will be the first of Škoda Group's production to feature an advanced anti-collision system, enhancing safety and protecting passengers and pedestrians alike. The inclusion of this groundbreaking technology is a testament to Škoda Group's unwavering commitment to innovation and its dedication to prioritizing passenger safety.
Technical Details
Škoda Group's tram specifically adapted for Bergamo sets a new standard in urban transportation with its exceptional features. A proven platform fully adapted for the Italian conditions will be 100% low-floor and is designed for persons with reduced mobility (PRM). Boarding of PRM passengers is eased by mean of automatic door extension operated by driver located at the doors closest to PRM places. This device will overlap distance between door edge and edge of the platform.
The ergonomically designed driver station offers unparalleled comfort, while the broad view from the cabin enhances safety and situational awareness. With a maximum speed of 70 km/h, the tram ensures efficient and swift transportation. Both the driver's cabin and passenger saloon are equipped with air conditioning, providing a comfortable environment for all during whole year. The inclusion of remote diagnostics enables real-time monitoring and proactive maintenance. Leveraging collaborations with Italian producers, the tram incorporates high-quality components, showcasing Škoda Group's commitment to excellence and international partnerships.
This article was originally published by Škoda Group.