Automatic driverless metros have now begun passenger service on Paris Metro's Line 4, as work has been completed to digitise and automate the century-old line.
More driverless shuttles will be introduced over time to achieve full automation by the end of 2023.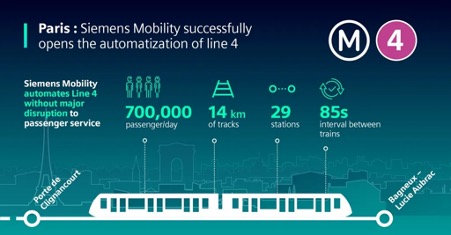 Line 4 is the city's second-busiest route, making the minimisation of disruption to passengers a key challenge for this project, which was undertaken by Siemens Mobility.
Furthermore, it had to incorporate work underway to extend the line to its new southern terminal Bagneux-Lucie Aubrac, as well as interface with three different types of rolling stock – MP89, MP05 and MP14.
The project saw Siemens Mobility equip the tracks, technical premises and 52 automatic shuttles with its digitalised systems and CBTC signalling technology at GoA 4.
Thanks to the ability to receive continuous updates, operational efficiency will be improved, resulting in fewer delays.
The company also supplied the equipment and software for the operation central command (OCC), which manages the signalling system and the traction power supply, as well as interfacing with the on-board and trackside systems.
The automation of the line has enabled public transport operator Régie Autonome des Transports Parisiens (RATP) to safely increase the frequency of its trains by reducing intervals from 105 to 85 seconds.
This, in turn, will enable it to accommodate more passengers.
Additionally, the automated system will reduce traction energy consumption by up to 15%.
"We're proud to have partnered with RATP and Île-de-France Mobilités to complete this landmark project that provides Line 4 with the highest grade of signalling technology and automation services.
"Paris has one of the busiest metro systems in the world. This truly modern system increases the reliability and availability of service, which will deliver an enhanced passenger experience for the 700,000 daily riders of Line 4."
Siemens Mobility is also involved in a number of other modernisation projects in Paris, including a new automatic control system on Line 14 and its extensions to Saint-Denis Pleyel and Orly Airport.