A Lightweight Solution to Stick With
Enjoy even more of the benefits of a lighter weight train set by choosing Altro's self-adhesive solution. 
Through the solutions we offer we're committed to partnering with you to achieve the optimum in safety and efficiency for your installation. Using our self-adhesive solution can save you up to 60% in adhesive weight, and is fully compliant to all rail applications.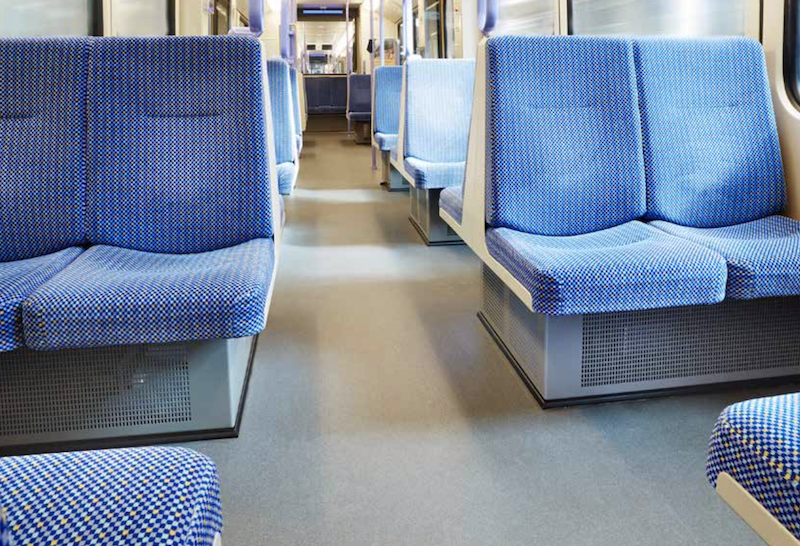 A double sided tape with pressure sensitive acrylic adhesive is applied to the underside of your chosen flooring product, eliminating the need for adhesive application and curing times. Simply peel, stick, weld, and walk – you won't even need any specialist tools, and almost all of the VOC emissions are eradicated, making for a safer working environment for your fitters.
To key sub-floor types, like plywood, metals, foams, plastics and composite materials, our self-adhesive forms a strong, permanent bond. For best results, first ensure that the sub-floor is clean and dust free by using a broom or a vacuum cleaner. You can also use a primer to secure the best sub-floor preparation by sealing the floor.
The Weighting Game
We're proud that Altro Transflor Tungsten can save a considerable amount of weight across a British Rail class 377 set. By using our self-adhesive solution, how much more could you save?
If you were to install Altro Transflor Tungsten with self-adhesive on a British Rail class 377 train set, the weight of the flooring, plus adhesive, would be 1,919.2kg. With a traditional contact adhesive, it would be 2,015.2kg, an addition of 96kg which would be the same as carrying fourteen bowling balls. With a two-part polyurethane adhesive, you'd be carrying an extra 157.7kg, the weight of an adult panda.* Can you justify the energy wasted by carrying extra weight?
Saving on energy also of course means you're saving financially. Aside from the improved fuel efficiency, that's twenty four tubs of 6kg two part polyurethane adhesive or nineteen 5 litre units of contact adhesive per train set that you won't need. How much of a saving is that across a whole project, be that new build or refurbishment?
Streamline your installation by partnering with us to reduce weight and save energy to better prepare for the move to new fuel technologies in rail. Contact us today to start the conversation.
*Weight with two part polyurethane adhesive: 2,076.9kg
Altro have been designing and producing high quality rail safety flooring for almost sixty years. Learn more here.