By the end of October 2019, Alstom is due to finish its first train for Hanoi Metro Line 3.
In 2017, Hanoi Metropolitan Railway Management Board (MRB) and Alstom signed their first integrated metro system contract. As part of this contract, Alstom is manufacturing 10 trains for the Hanoi Metro Line 3. It says it will finish the first trainset by the end of October.
A Visit from Tran Quoc Vuong and Delegates
On 26 October, Alstom hosted a visit from Tran Quoc Vuong, the Deputy General Secretary of the Communist Party of Vietnam. Along with his party, they visited Alstom's Valenciennes train assembly plant in France. During this visit, Olivier Loison and Nguyen Duc Chung signed a memorandum of understanding. Loison is the Managing Director for Alstom in China and East Asia. Chung is the Mayor of Hanoi and Chairman of the Hanoi People's Committee. This agreement builds on the original contract between Alstom and Hanoi from 2017. It encourages future co-operation between the two parties, particularly with regard to developing updated systems in the Vietnamese capital.
"We are honoured to have Deputy General Secretary Vuong and his team witness the final assembly of our first train for Hanoi Metro Line 3 here in Valenciennes. This will be an important milestone for the bilateral project as we bring this train to fruition. We look forward to remaining a close and long-term partner of Vietnam, addressing its mobility needs and supporting it in its upcoming transport projects."
The Existing Contract from 2017
In the original 2017 contract between Hanoi and Alstom, the two parties agreed that Alstom, together with its consortium partners, would provide an integrated metro system for the Hanoi Metro Line 3. This line has 12 stations and is 12.5km long. Around 23,900 people are expected to use the line per hour at peak times. Alstom's role within the consortium for the integrated metro system included supplying and integrating the metro system, including the 10 Metropolis trains and Urbalis 400 signalling system. The Urbalis system allows trains to operate at higher frequencies and speeds safely. Additionally, Alstom is providing depot equipment and the power supply together with a partner.
Alstom's Metropolis Trains for the Hanoi Metro Line 3
Alstom is supplying ten 4-car Metropolis trains to the Hanoi Metro Line 3. The car bodies are made of aluminium, which is very lightweight. The trains will run electrically.  The Metropolis design focuses on passenger flow thanks to its wide doors. The trains provide space and supports for reduced-mobility passengers. The decor of the carriage includes local Vietnamese motifs and colours. Motifs such as dragon fruits appear on both the inside and outside of the vehicles. These motifs were popular during a September 2018 consultation.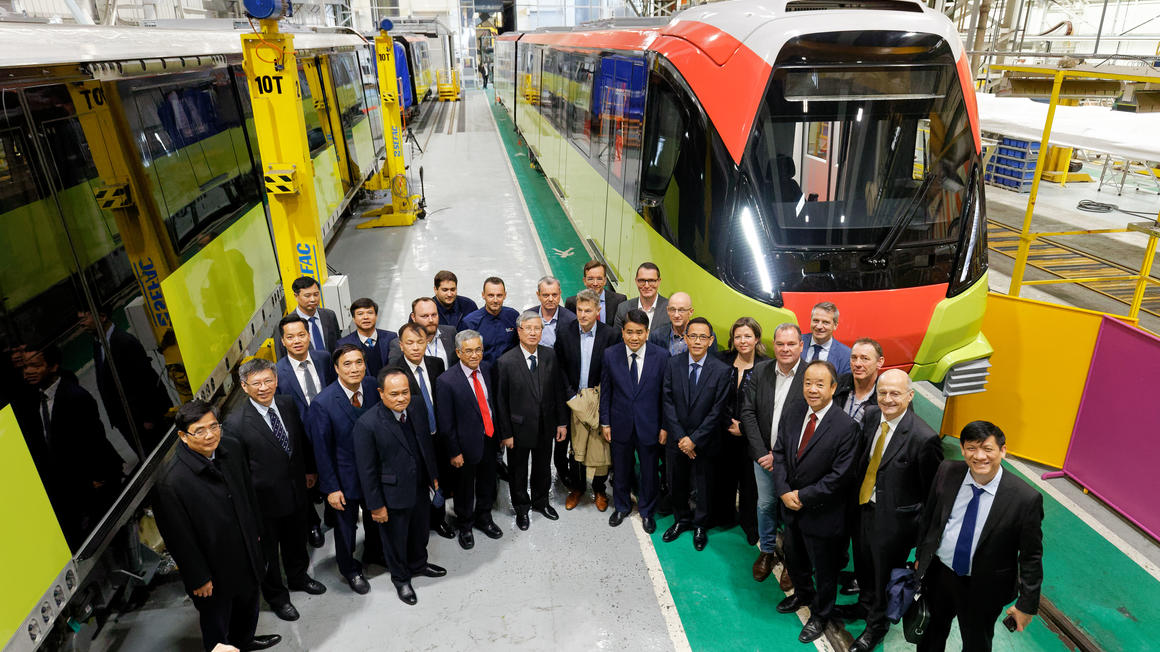 During November 2019, Alstom will put the first train through dynamic and static testing at the Valeciennes Railway Testing Centre. In late 2020, further tests will take place on the tracks of Hanoi's Metro Line 3. The audio-visual equipment on-board will be tested along with their automatic control systems. The Metropolis trains are to enter service on the metro line in early 2021.
Alstom's Presence in Vietnam
Prior to this agreement, Alstom has provided a range modernisation services in Vietnam. For the Hanoi-Vinh regional line, Alstom has supplied both telecommunication and signalling updates. Furthermore, Alstom has offered to supply systems to Ninh Binh station, involving signalling and telecommunications. Overall, this has led to about 30 years of business for Alstom in Vietnam.
Also read: