ADLINK Announces Two New CompactPCI® 2.0 Processor Blades Powered by Latest Intel® Xeon®, Core™ and Atom® Processors
3U cPCI-3630 and 6U cPCI-6636 further enhance ADLINK's extensive, rugged CompactPCI processor blades portfolio and provide technology upgrade solutions for railway transportation, military, aviation and industrial automation.
ADLINK Technology, a global provider of leading Edge Computing solutions that drive data-to-decision applications across industries, today released two new CompactPCI® 2.0 processor blades, the cPCI-3630 and cPCI-6636.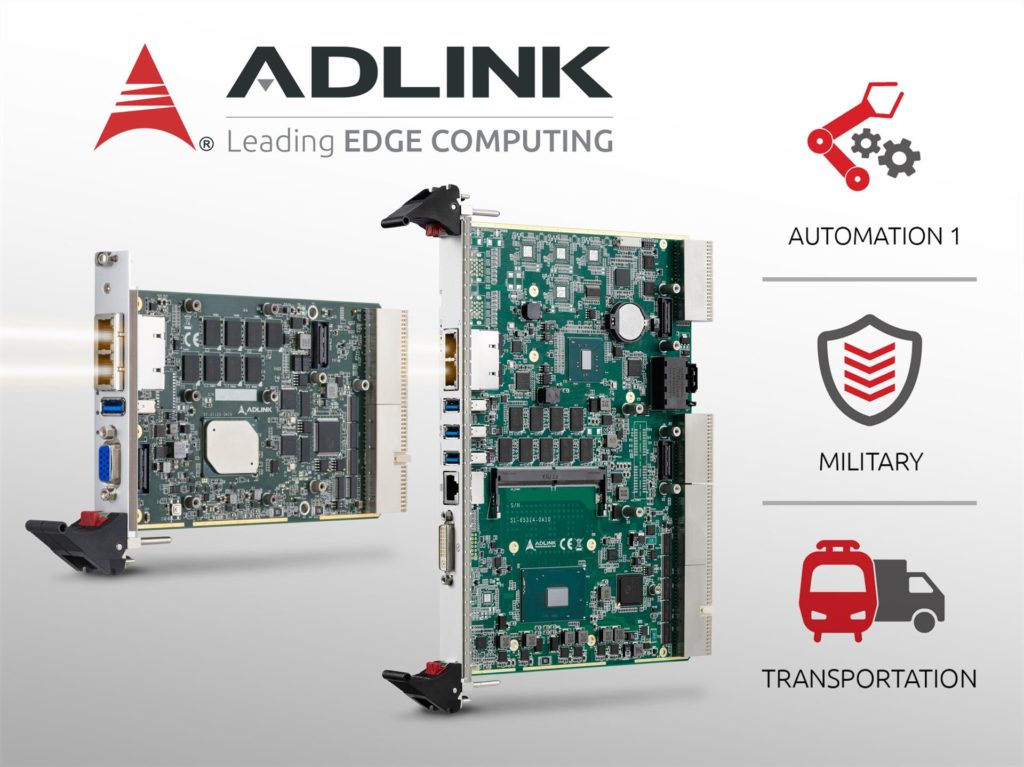 ADLINK's cPCI-3630 is a 3U CompactPCI processor blade featuring the 64-bit Intel Atom® Processor X Series SoC (formerly Apollo Lake-I) and up to 8GB soldered DDR3L-1600 MHz ECC memory. The Intel Atom®Processor X Series integrates the low-power 9th generation graphics engine and provides excellent graphics, media and display support. Available in single-slot (4HP) or dual-slot (8HP) width form factors, the cPCI-3630 utilizes various daughter boards to provide a broad range of I/O functionality. One of the dual-slot variants supports an XMC site on layer 2. Storage options include an onboard 32GB SSD, CFast or mSATA socket and 2.5″ SATA drive space on the layer 2 riser card.
ADLINK's cPCI-6636 is a 6U CompactPCI processor blade powered by the 6th/7th generation Intel® Xeon® E3 and Intel® Core™ i3/i5/i7 Processors with Intel® HM170 or CM236 Chipsets. The cPCI-6636 supports up to 32GB DDR4-2133 memory with 16GB soldered onboard and up to 16GB via SODIMM socket. In addition to the significant performance boost enabled by the latest Intel® processors, the cPCI-6636 also supports a variety of faceplate I/O interfaces in both single-slot (4HP) and dual-slot (8HP) width form factors. The dual-slot version cPCI-6636DZ supports 6x RS-232 serial ports and 8x USB 3.0 for high speed transmission. Storage options include one 2.5″ SATA drive space, one 7-pin SATA connector and one CFast slot by adapter board. An XMC connector via PCIe x8 adapter board is supported in place of the CFast on another dual-slot variant cPCI-6636D.
Eric Kao, General Manager of Networking, Communication & Public Sector Business Unit (NCP) at ADLINK, said:

"ADLINK is an executive member of the PICMG (PCI Industrial Computer Manufacturers Group) consortium, which initially introduced CompactPCI in 1999. By participating in PICMG, we are able to contribute expertise that guides future CompactPCI development and helps us position the architecture as a top choice in extreme rugged environments. ADLINK envisions CompactPCI as a viable technology for another decade or longer"

"The launch of the cPCI-3630 and cPCI-6636 is another testament to our commitment to building an even more comprehensive and cost-effective CompactPCI portfolio, enabling customers to effectively mitigate budget constraint, smoothly and seamlessly take on technology migration and product integration, and deliver the industry desired supply longevity."
Featuring ADLINK's Smart Embedded Management Agent (SEMA) for online system health monitoring, the cPCI-3630 and cPCI-6636 support independent operation in both host and peripheral slots without CompactPCI bus communication (satellite mode). While the EN 50155 compliant cPCI-3630 provides an ideal solution for railway transportation, medical and industrial automation that require optimal computing performance for data transfer with lower power consumption, the cPCI-6636 offers a high-density solution for military, aviation and other mission-critical applications that require robust computing in a rugged and reliable CompactPCI system.
ADLINK is a premier supplier offering an extensive, rugged CompactPCI commercial-off-the-shelf (COTS) portfolio by leveraging more than 20 years of expertise in developing highly reliable and available embedded computing systems. ADLINK offers design services in every major geographic region, benefiting customers with increased responsiveness, short delivery lead-time and ease of doing business.
Please visit our website for more information on ADLINK's cPCI-3630 and cPCI-6636 CompactPCI processor blades.