Canadian National Announces $40 Million Investment in New Brunswick and Nova Scotia
Canadian National Railway (CN), a Class I operator which provides freight transportation in Canada and the United States, has announced plans to invest $40 million in its operations in New Brunswick and Nova Scotia during 2018. As part of its 2018 capital programme CN will invest $30 million in New Brunswick and $10 million in Nova Scotia. All of the investments will focus on the replacement, upgrading and maintenance of key track infrastructure in the provinces.
Michael Farkouh, Vice-President of CN's Eastern Region, said:
"We are again investing to support a safe and fluid railway network. CN remains committed to investing for the long haul to raise the bar on service for our customers in North America, while continuing to strengthen our infrastructure in support of our unwavering commitment to railway safety."
Sheri Somerville, Chief Executive Officer of the Atlantic Chamber of Commerce, said:
"Rail services in Atlantic Canada provide the backbone for an efficient intermodal transportation system and allow our region to act as hub for global trade. With this investment, CN continues to demonstrate accountability for maintaining a vital national trade link and a substantial contribution to the economy in Atlantic Canada. A long-standing corporate partner to the Atlantic Chamber, CN is a critical and valued member to us and the Atlantic community."
New Brunswick
The company's network in New Brunswick covers Monkton, Saint John and Belledune and the projects which CN are investing in include:
Installation of c. 20 miles of new rail
Installation of more than 50,000 railroad ties
Rebuilding road crossing surfaces and maintenance work on bridges, culverts, signal systems and other track infrastructure
Karen Ludwig, MP for New Brunswick Southwest and Chair of the New Brunswick Caucus in the House of Commons, said:
"Many of our New Brunswick companies depend on rail transport as a reliable and efficient way to get their goods to market. CN's commitment to strengthen the company's infrastructure in the province is an important development for job creation and our future economic growth."
Nova Scotia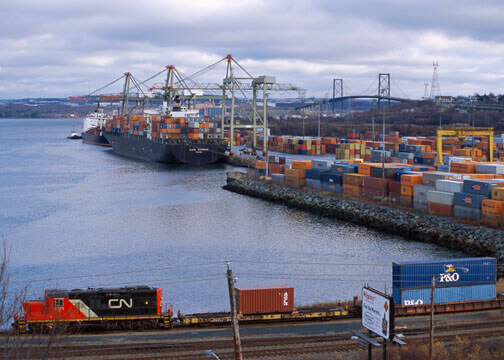 The CN network in Nova Scotia facilitates shipments between the container terminals at the Port of Halifax with markets in central Canada and the U.S. Midwest; it also provides a link to Newfoundland. The investments in this province cover:
Installation of 6 miles of new rail
Installation of more than 2,100 railroad ties
Rebuilding road crossing surfaces and maintenance work on bridges, culverts, signal systems and other track infrastructure
Darren Fisher, MP for Dartmouth-Cole Harbour and Chair of the Nova Scotia Caucus, said:
"I am pleased to see CN's continued investment in Nova Scotia. Rail is integral to many industries across our province, and safe, efficient and reliable service is key to growing our economy."
Lloyd Hines, Minister for Transportation and Infrastructure Renewal in the government of Nova Scotia, said:
"Rail is an integral part of Nova Scotia's transportation system and these capital investments are a sign of CN's commitment to its operations in our province. CN's networks are always welcome and support our community."
Previous investments in its operations by CN during 2018 include orders for 350 new box cars and 1000 grain hoppers. In June 2018 it will also accept delivery of 60 new locomotives from GE transportation.