Taiwan: Siemens Consortium Wins Metro Line Rail Technology Contract
Taiwan: The city government of Taoyuan has awarded a contract for the delivery of electrical and mechanical systems for the Green Line of its metro network to a consortium. The group includes Siemens Mobility and two further companies: Hyundai Rotem, a train manufacturer in South Korea and BES Engineering, which is based in Taiwan.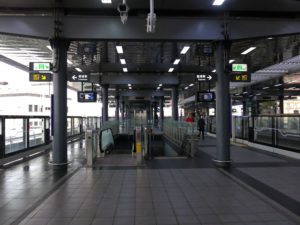 The project features the installation of a signalling system which facilitates GoA (Grade of Automation) 4 autonomous train operation. Siemens will provide its Trainguard MT Communications-Based Train Control system (CBTC), traction drives for the trains and the direct-current (DC) traction power supply for the line. 
On completion the line will be 27.8 km long. 12.5 km of it will be underground and approximately 15.3 kilometers will be elevated. The Green Line will connect Taoyuan City with Taoyuan International Airport and Aerotropolis, a planned urban development around the airport, via the TTY Airport Line.
Chen Wen De, Director General of the Department of Rapid Transit Systems, Taoyuan City Government, described the importance of the Green Line for the network:
"The Green Line will connect Chungli and Taoyuan City with the future airport city of Aerotropolis via Taoyuan's underground rail, the mass rapid transit TTY Airport Line, the Brown Line, the San-ying Line Extension to Bade and the Green Line Extension to Chung-li. Along with Taoyuan Aerotropolis and the Asian Silicon Valley projects in Taoyuan, realization of the complete mass rapid transit network will transform Taoyuan into a smart, dynamic and internationally competitive city."
Michael Peter, CEO of the Siemens Mobility Division, said:
"Our CBTC train control system enables rail operators to optimally utilize their network capacity and throughputs. Headways of 90 seconds or less will be achieved with moving block operation that ensures safe separation of the trains, combined with continuous bidirectional radio communication. This will enable the operator to maximize the number of trains simultaneously operating on the line, thereby increasing the number of passengers being transported."
The city government is also planning extensions for two other lines: from Taoyuan to Daxi, including three new stations, and from Taoyuan to Chungli, with seven new stations.