Saudi Arabia: Alstom Testing Performance for Riyadh Metro Project
Alstom is currently completing initial dynamic tests on its contribution to the Riyadh Metro Project in Saudi Arabia, which is being developed by the FAST consortium. Alstom is providing a fully integrated metro system for lines 4, 5 and 6 of the project, which is owned by the Arriyadh Development Authority (ADA). The completed system will incorporate 6 tracks and 85 metro stations around the city.
The company is building the tracks and 69 driverless Metropolis-based trains for the system. It is also installing an Urbalis signalling system and Hesop energy recovery station. Alstom's tests, on the line 4 Depot Test Track, are demonstrating the performance of the facilities, from power supply to signalling.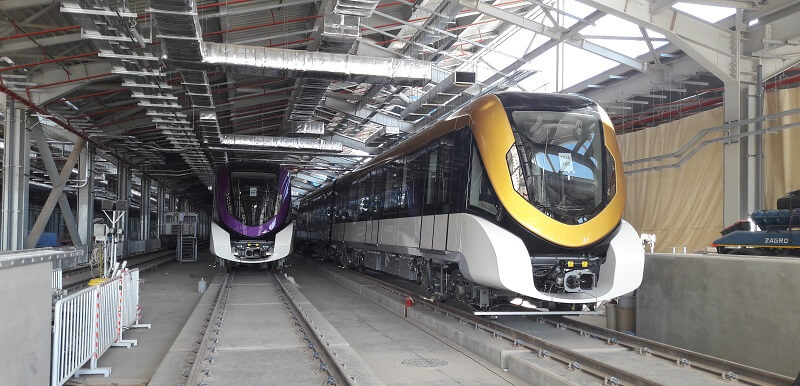 Didier Pfleger, Alstom's Senior Vice President for Middle East and Africa, said:
"This test run is a significant milestone for Alstom and for the project. We are proud to conduct the tests in Riyadh in order to deliver a state-of-the-art metro to our customer Arriyadh Development Authority (ADA) and the inhabitants and the visitors of Riyadh."
The Train and Stations
The Metropolis-based driverless train is 36 metres long and comprises two carriages per set, offering three classes of service: first class, family class and singles class. The features in the carriages include ergonomic seating, LED lighting, air conditioning and a passenger information system.
The speed and movements of the trains are controlled by a signalling system which includes automatic opening of the train doors. The stations are air-conditioned and equipped with platform screen doors which prevent unauthorised persons from accessing the track. Real-time information is transmitted to passengers via screens and loudspeakers at platforms and on board the trains.
The Riyadh Metro Project is expected to completed by 2021. It has also been reported that trial runs will commence in late 2018.