Topping Out Ceremony on $95m Springfield Subway Car Facility
CRRC marked a "topping out" ceremony at Springfield, Massachusetts on 25 August 2016. The new Springfield subway car facility will boost the local economy. It is estimated to cost $95 million and is 204,000 square feet. It will feature a 2,240-foot dynamic test track.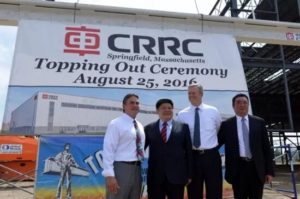 The ceremony was attended by Gov. Charlie Baker and officials from CRRC and from the Massachusetts Bay Transportation Authority (MBTA). Guests watched the ceremonial last piece of steel being put into place. The facility is currently around 60 days ahead of schedule. The plant will be completed in the autumn of 2017, with the first batch of railcars to be delivered in 2018.
The plant will employ around 150 people. CRRC will begin hiring production workers in October 2016, whereupon they will be sent to China for advanced training in February.
Chuanhe Zhou, CRRC Changchun Vice-President, said:
"No more sleepless nights with 40-year-old subway cars rattling under the streets of Boston. Boston is a center for great transportation and should be able to point with pride to its subway cars."
MBTA Subway Car Contract
MBTA placed an order in October 2014 for CRRC to manufacture 284 new subway cars to replace the existing fleet which have been in operation for more than 40 years. Of those cars, 152 will operate on the Orange Line of the Boston Subway, and 132 cars will operate on the Red Line.
The plant is the first of many for CRRC in North America, who have recently signed contracts with Chicago to supply 246 metro cars. Further contracts are in the pipeline for subway cars and high-speed trains for Los Angeles, Philadelphia and New York City. This facility is expected to be the first of many for CRRC in the region.
Bo Jia, Vice-President of CRRC MA, said:
"The market in North America is too big to serve with just one plant. This will be our hub. It depends on the capacity here, but the skilled manufacturing will be here.

"This first group of workers will come back and help train others. We are very excited."