Pakistan Railways Orders Further Coal Hopper Wagons
Following the delivery of the first batch of coal hopper Wagons, the Pakistani Ministry of Railways has ordered a further 605 wagons from CRRC Jinan. The order relates to 585 coal hopper wagons and 20 cabooses.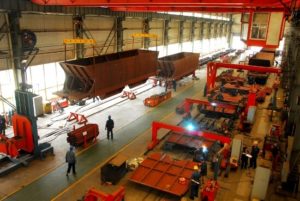 The original order, worth Rs3.92billion, was with Jinan Railway Vehicles Equipment Company for 800 hopper wagons and one railroad freight car to carry coal from Port Bin Qasim to regional power plants. Five freight trains a day will run from the port to Qadirabad power station to transport 12,000 tons of coal.
Jinan, a subsidiary of the China CNR Corporation, is a leading manufacturer of railway freight wagons in China. It has since delivered 200 complete built units wagons and 580 complete knock-down wagons, all built at the Mughalpura railway workshop.
The freight cars feature an automatic discharge mechanism with a discharging time of 30 seconds. They are top loading, while unloading takes place from the sides via a pneumatic door operating mechanism.
Minister for Railways Saad Rafiq said that Pakistan Railways will accrue Rs6billion every year for moving coal from Port Qasim to coal-based power plants, and that Pakistan Railways saved Rs1billion by re-tendering the project originally.
Pakistan Railways has previously bought 55 diesel electric locomotives from General Electric (GE) for Rs22.44billion, which will also be used to move coal.