First Chinese Straddle Monorail Successful Test
CRRC Qingdao Sifang Co, Ltd celebrated the successful test of the first domestic built, permanent magnet straddled monorail train in Qingdao, East China's Shandong province at an event on on 19 May 2016. The permanent magnet straddled monorail train is highly efficient particularly on upward climbs. They also feature a small turning circle, good capacity, emit low levels of noise and carbon pollution, and operate at a far lower project cost as compared to conventional subway systems.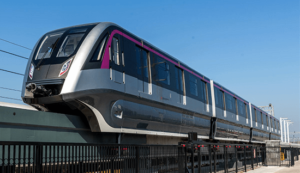 The train comes in four, six or eight sections, with a 2.9m wide body. It can transport 1,448 passengers in six sections with a total length of 90.8 meters. It has a top sped of 80 km/h and has an estimated 30 year service life.
CCRC Sifang cheif designer, Zhong Yuanmu, stated that the train is the first of its kind to operate on permanent magnet synchronous motors. This makes it particularly energy efficient, requiring around 10% less power than an asynchronous motor.
The good climbing capability and small turning circle mean it is ideal to operate in complex terrains, such as areas requiring ramps and curves. The normal operating speed of 70km/h will emit 70 dB at around five meters.
The train is constructed of a high-strength aluminium alloy, and meets BS6853 fire protection standards, meaning that it is fire-resistant beyond 30 minutes. It also has features a high-pressure direct atomisation water mist fire suppression system.
Part of the cutting-edge features of the monorail are also an advanced wireless tire pressure monitor system (TPMS), nano-ceramic windows to stop ultraviolet rays and can deflect 97% of infrared light, and antibacterial and antiviral nano-materials over air ducts. Each carriage has three doors in each carriage to make embarkation and disembarkation rapid.
This successful test run marks CRRC's first foray into the straddle-monorail market, becoming one of more than 50 straddle-monorail routes in the world.