Transnet Receive First 45D Diesel Locomotive
South African freight transport and logistics company, Transnet, have received the first 45D diesel locomotive from CRRC at a ceremony held in Durban, South Africa. 232 D45 diesel locomotives will be delivered as part of the order. The total contract is worth $900 million, making it the largest order for locomotives in South Africa to date.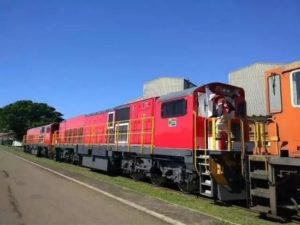 The 45D diesel locomotive is a narrow gauge locomotive with a top speed of 100 km/h. The new vehicles will be an addition to the modernisation of Transnet's fleets.
Twenty of the locomotives will be made in CRRC Dalian, with the remainder to be manufactured in Durban. This is part of Transnet's commitment to localise the production of imported machinery and equipment. Around a third of the works will be carried out by local South African engineering and manufacturing firms, which will build up local experience which can later be exported, enabling the works to contribute to the to the South African economy in both the short- and long-term futures.