Milestone for Alstom: 28th Repainted Pendolino Leaves Facility in Widnes
Alstom, which has the task of repainting and overhauling the UK's Pendolino fleet, has announced it has just hit the halfway milestone. The fleet that is operated by Virgin Trains and leased from Angel Trains consists of 56 units in total. The 28th repainted Pendolino train left Alstom's factory in Widnes in northwest England in November. The remaining 28 trains will be finished by the end of next year.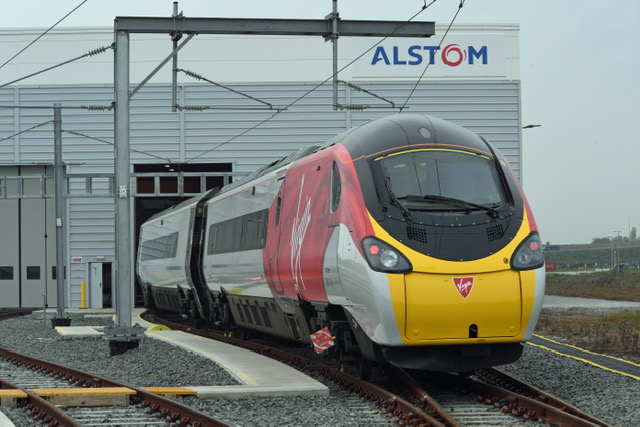 The high-speed, electric Class 390 Pendolino tilting trains operate on the West Coast Main Line (WCML) and have been since their introduction on the line in 2003. The route between London and Glasgow is 1,265km, with four other major UK cities along the line. In 2017/18 almost forty million passenger journeys were made on the WCML, amounting to more than 7.5 billion passenger kilometres.
Alstom won the repainting contract in July 2016 with work beginning on the job in August 2017. Alstom said the first train would take five weeks to complete, with every following train taking two weeks.
Read: Alstom Win Pendolino Fleet Repainting Contract
Repainting the Pendolinos at Widnes
To complete the work, Alstom has to strip back the cars, which includes all the exterior fittings. Workers at the Widnes site then have to perform minor repairs before fully repainting the Pendolinos to give them protection from corrosion. Alstom says that this work will give them the necessary protection against wear and tear for them to complete the second part of their life-cycle, while advancements in paint technology means that the repainted Pendolino trains will look at least as good and possibly even better than when they first started operating.
Read: Alstom to Repaint Virgin's Pendolino Trains
The Alstom facility in Widnes was built to accommodate the entire length of the 9-car and 11-car trains. No other facility in the UK has this capability. It opened in 2017.
Piers Wood, Managing Director Fleet Services, Alstom UK & Ireland, said:
 "We are very proud of the job we're doing with this repaint. These iconic Pendolinos are the backbone of Britain's railways, and this will allow them to continue serving the millions of passengers they carry every year. A repaint of this scale has never been undertaken by the industry before and it is particularly special for us as it is the first piece of major work we are doing at our state-of-the-art Widnes facility.

"We are also pleased that this programme has allowed us to bring on some brilliant apprentices, who are now a key part of our team at Widnes. With our partners at Virgin Trains and Angel Trains we want this programme and this iconic train to continue to be a real showcase of what we can achieve in the industry."
Peter Broadley, Executive Director for Customer, Operations and Safety at Virgin Trains, said:
"The new look Pendolino is certainly catching the eye and it's of great credit to all involved that will we have a fully repainted fleet by December 2019."
Alstom's Widnes Facility
Alstom's facility in Widnes also includes a training academy, delivered in collaboration with the National College for High Speed Rail. 85 employees were hired to perform the repainting job and eight of them are local apprentices. Alstom and the National College for High Speed Rail are working together to raise the level of qualifications on offer to former apprentices to increase the skill levels of the local workforce.
Read: Careers in Rail: Interview with NCHSR CEO Clair Mowbray
Furthermore Alstom's Centre of Excellence for Modernisation is also located in Widnes. Alstom plans to make it its hydrogen train centre in the country. This is where the Class 321 trains owned by ROSCO Eversholt Rail are to be converted to hydrogen traction.
Read: Hydrogen Cells: How Alstom is Building on the Coradia iLint