Since 2016, safe working procedure rule breaches in Australia's rail industry have increased by 47%.
This concerning statistic was revealed in the Office of the National Rail Safety Regulator's (ONRSR) Safety Report for 2017–18, which also highlighted that one in six of these breaches posed a significant level of threat, including failures that could have resulted in workers being struck by a moving vehicle.
Depot worker safety is currently considered a national priority in Australia and an industry-wide safety improvement proposal has been announced by the ONRSR. With that in mind, ensuring that personnel at Melbourne's new maintenance facility, Pakenham East, were afforded the highest levels of protection was a priority for its operator Evolution Rail, a consortium comprising Downer Group, CRRC and Plenary.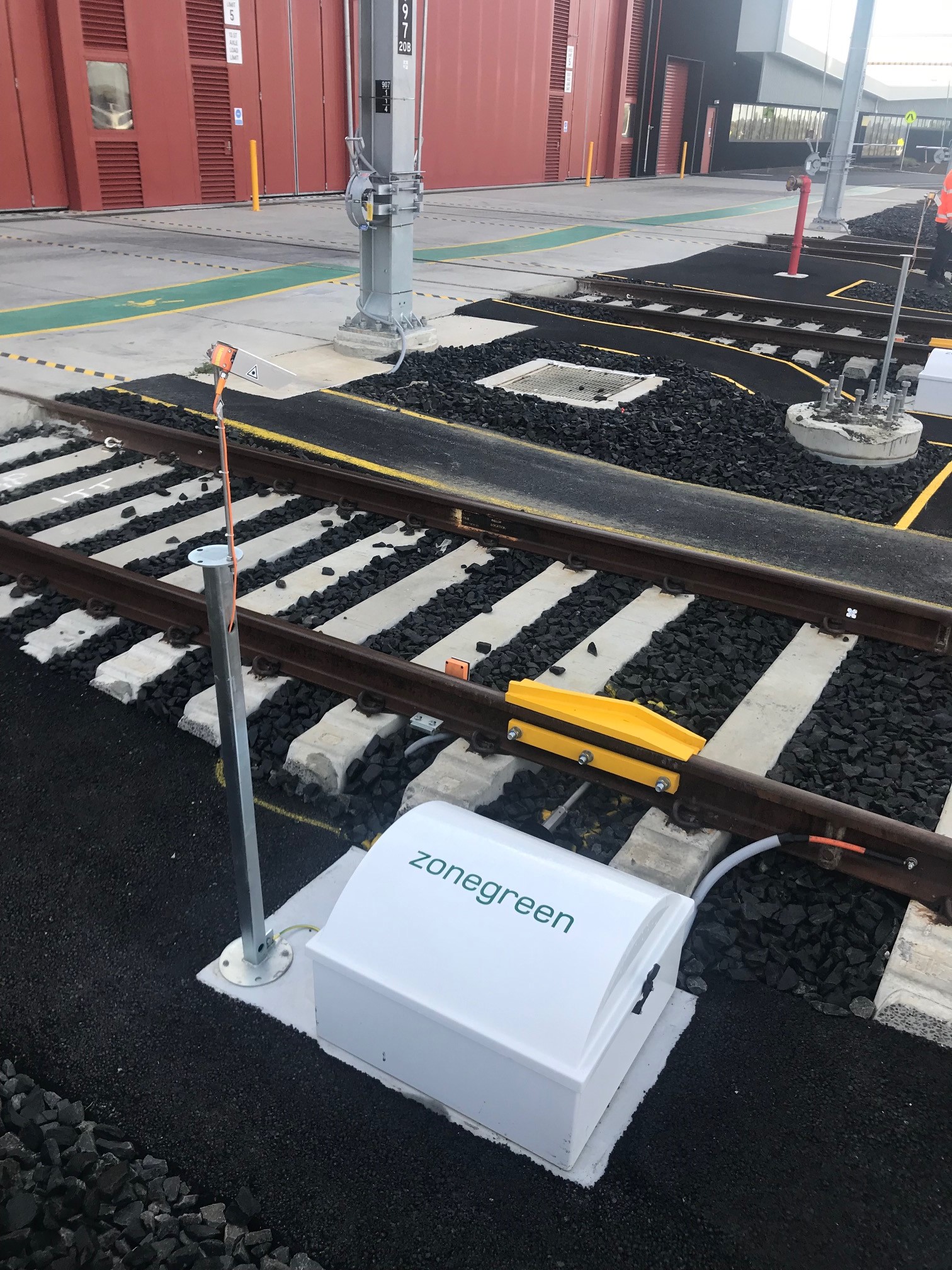 Depots are inherently dangerous places to work, with hazards including moving trains and high-voltage equipment part and parcel of everyday life. However, advances in technology mean the risks to staff can be almost eradicated by removing the human element in safety procedures.
Leading this revolution are the specialist engineers at Sheffield-based Zonegreen. The firm is recognised as the creator of modern depot protection and its flagship system has now widely replaced traditional methods of safeguarding maintenance staff in the UK.
Working with Australian partner Andrew Engineering, Zonegreen's Depot Personnel Protection System (DPPS) has been installed at Pakenham East to ensure that depot worker safety in Australia continues to grow in line with the sector's ambition and the delivery of ground-breaking projects.
Melbourne Moves Forward
Packenham is being constructed to serve the Victoria State Government's High Capacity Metro Trains project, which is introducing 65 bigger, better trains into Melbourne to meet its growing needs.
This is the second Australian depot to be equipped with Zonegreen's technology. DPPS was installed at Wulkuraka in Ipswich, Queensland, three years ago and the Bombardier facility retains an unblemished safety record. Unsurprisingly, Pakenham's operators were keen to introduce the same levels of staff safety.
The specification of Zonegreen's innovative system represented a great opportunity for the firm to demonstrate the power and flexibility of its technology to the Australian market, further extending its reputation across the country.
Ground-Breaking Depot Protection
DPPS is a standard product that provides the safest and easiest method of controlling train movements in rail depots. It combines powered derailers, road end control panels, train detection equipment, warning signals and personal datakeys to protect staff and infrastructure and is the most advanced, reliable and tested product of its type.
Zonegreen has spent many years on research and development, whilst listening to customer feedback, to ensure it moves with the times, makes the most of advances in technology and remains relevant in this ever-evolving industry. The result is a dynamic, intuitive, user-friendly system that allows depots to provide the highest standards of safety for staff.
By utilising modern electronics, DPPS provides excellent reliability and functionality and incorporates remote diagnostic features that make maintenance easier, expanding the lifetime of the product. Standardised software means that whilst the system can be configured to the unique layout of each facility, it is proven, tried and tested, so any updates or improvements can be rolled out with ease and minimal expense.
This innovative software reduces the cabling and electrical components required of DPPS, making it more resilient and able to withstand the rigours of a rail depot. It is based on an intuitive four-button graphical user interface that can be programmed in any language and has been designed to ensure future modifications or expansions are simple to undertake. Providing an overview of DPPS at Packenham is Zonegreen's monitoring, planning and analytical tool, Depot Manager. The software identifies where staff are logged on to the safety system and offers advanced traceability, by recording all actions, displaying the status of plant and equipment and delivering easy-to-interpret data that is accurate and readily accessible should an incident occur.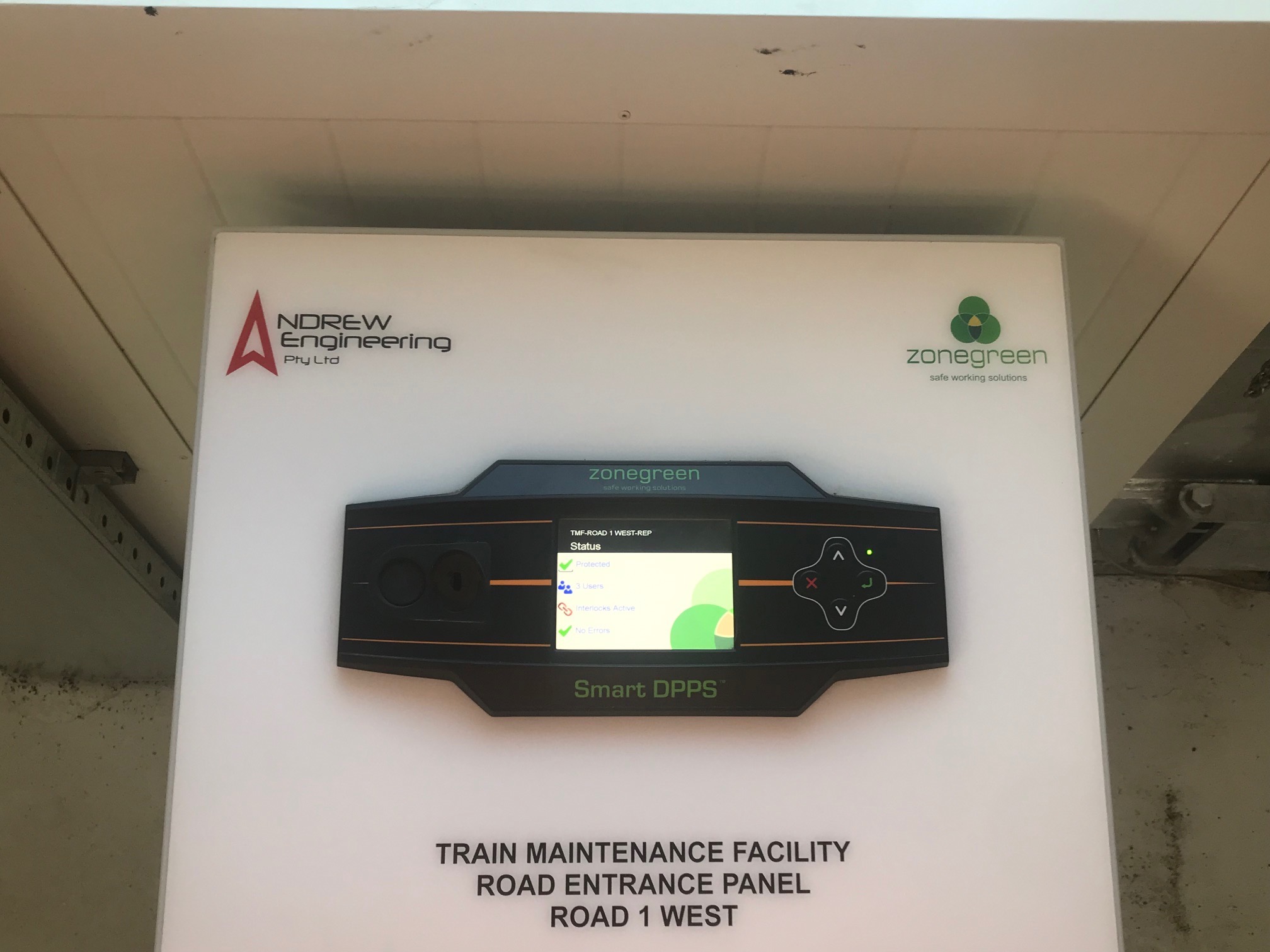 © Zonegreen
Protection for Pakenham
Pakenham is being specially constructed to maintain Melbourne's new high-capacity trains and as part of the build process, Zonegreen has tailored its technology to the unique needs of the maintenance and stabling facility, which can accommodate 30 of the seven-car electric vehicles.
DPPS has been installed on 16 road ends within the main shed, ten of which boast physical protection via powered derailers. They are operated by road end panels, controlled by the system's personalised datakeys, enabling the safe and efficient passage of trains in and out of the depot.
The datakeys are programmed with varying levels of access, commensurate to the user's job role, and these levels of access allow staff to create safe zones in which to work. They contain advanced encryption, providing additional security.
Protection at Packenham has also been boosted by the incorporation of visual and audible warnings in the form of beacons and klaxons, indicating when vehicle movements have been authorised. In addition, DPPS is interfaced with the signalling system, preventing routes being set into the main shed if personnel are logged on to specific roads.
Zonegreen's Australian colleagues, Andrew Engineering, carried out the physical installation of the safety system and provided an interlocking solution linking DPPS to the overhead lines (OLE), preventing personnel and machinery from coming into contact with high-voltage equipment. They will also be undertaking routine maintenance.
Looking to the Future
"We are really pleased to have been specified for Pakenham by Evolution Rail. The installation ran smoothly and we look forward to building a long and successful relationship with the depot. The project marks a significant milestone in our development overseas, helping us gain traction in another important export market."
The firm has recently celebrated DPPS's 20th anniversary by launching a new road end panel, which is operated via radio frequency identification (RFID) cards, which utilise a unique proprietary RFID reader that has been incorporated into the system. This latest version of DPPS also offers verbal warnings of vehicle movements, making it easier to distinguish areas of risk.