Zonegreen Highlights Earth Pole Dangers
Sheffield's rail safety specialist, Zonegreen, is urging depot operators to review their earthing procedures, to ensure personnel working with overhead lines are adequately protected.
Christian Fletcher, the firm's technical director, said:
"It is not uncommon for non-interlocked earth poles to be fitted in error to live overhead lines, resulting in an electrical explosion.

"Unfortunately, the proliferation of electrification, combined with increasing pressure on operators to produce pitstop style maintenance regimes, has resulted in a steady increase in the number of incidents involving earth poles and straps. This can cause serious injury to staff and expensive damage to depot infrastructure."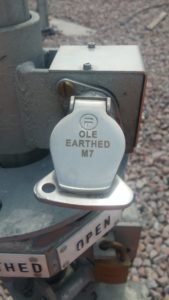 Earth Pole Interlocking
Earth pole interlocking ensures the safety of personnel working in depots without compromising on operability.
Zonegreen's innovative solutions are installed in facilities across the UK to offer protection against the risks posed by overhead lines. They can be used to control the application and removal of earth poles, by ensuring the correct area of overhead line is isolated and only allowing them to be fitted once it is complete.
Zonegreen has most recently fitted an earth pole interlocking system at Crossrail's Old Oak Common depot in London. It supplied and installed 19 pole sets, including two for the carriage washing facility and one for use in the yard.
Christian added:
"By removing the margin for human error, our automated system ensures the safety of depot personnel working at height on electrified maintenance roads. Not only can it absolutely prevent serious injury and fatality, it can also speed up the isolation process and consequently the downtime required for servicing, meaning carriages are back in service more quickly."
For more information about Zonegreen's interlocking expertise, telephone (0114) 230 0822, email [email protected] or visit www.zonegreen.co.uk