Why Is Aluminium Honeycomb So Strong?
One of the main aluminium honeycomb properties is its high strength to weight ratio, but why is it so strong?
The aluminium honeycomb properties are determined by the manufacturing process of the product. This begins with large rolls of foil being passed through a printer where adhesive lines are printed onto the foil, which comes in a variety of thicknesses (35μ, 50μ, 70μ) and two alloy types – 3003 and 5052. The positioning of the adhesive lines on the foil determines the cell size of the honeycomb piece. The closer together the lines are printed, the smaller the cell size and the stronger the aluminium honeycomb.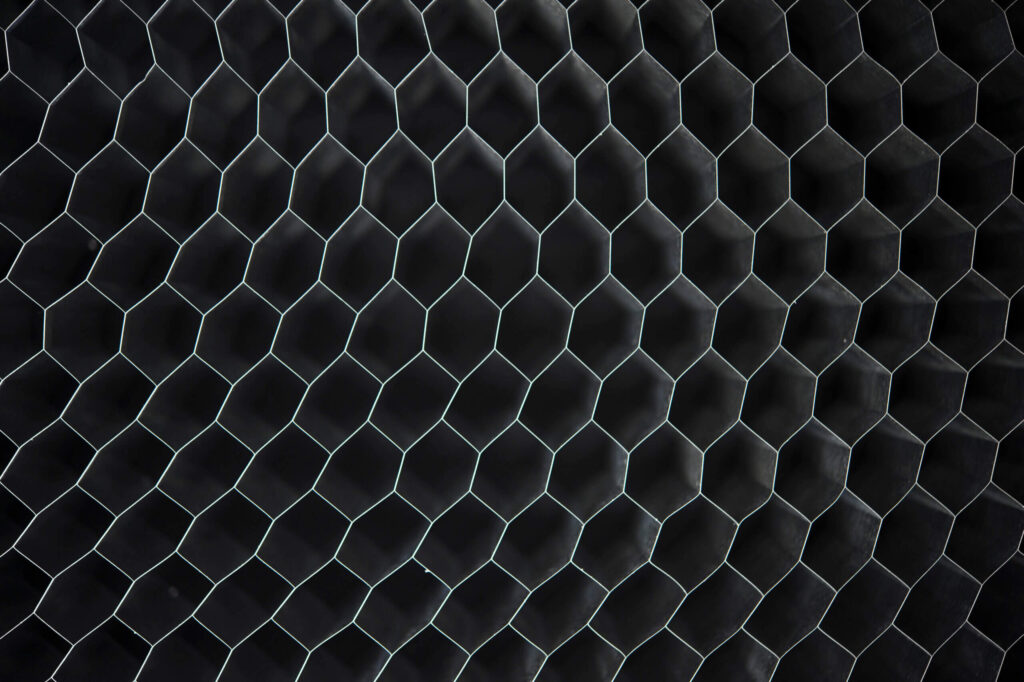 The honeycomb cell shape is inspired by bees and the cells in the beehive, as the hexagon is one of the strongest shapes in nature. Thanks to the geometry of its shape, it means that the hexagon uses the least amount of material to hold the most weight. The shape has six sides and unlike circles, it creates even cells that fit perfectly within the core. This allows the most amount of cells to be packed into the smallest space.

Honeycomb density is dependent on both the foil thickness and cell size. The strongest honeycomb core comes from a combination of a thicker foil manufactured with a smaller cell size. For example, a 1/8" cell has the highest nominal density. Honeycomb with a larger cell size, such as 1/2" has a lower density.
Honeycomb with a smaller cell size is better suited for more demanding applications where strength is vitally important, such as for use in energy absorbers. These absorbers are often used for handling nuclear material as well as in the defence industry to provide support and blast mitigation in doors, floors, seats and storage areas of military vehicles. However, the smaller the cell the heavier the material so for applications where weight is just as important as strength, a larger cell size may be selected. In motorsport, aluminium honeycomb is used in reduce weight in interior body panels, spoilers, floors, chassis components, wings and diffusers. Corex Honeycomb has worked with Oxford Brookes Racing for three years, providing honeycomb for use in their Formula Student racing car.
Large cell sizes still offer impressive strength and are lighter and more cost effective. They are used for a variety of applications including in composite panels for building facades, clean rooms as well as partitions and ceilings. Artists and sculptors have also used honeycomb with larger cell sizes to create unique shapes.
We manufacture a full range of aluminium honeycomb for various applications. A limited standard range is available 'off the shelf' in a variety of sizes and thicknesses from our online shop or please get in touch if you have more complex requirements. To keep up to date with all things Corex, follow us on Facebook, Twitter and LinkedIn.
This article was originally published by Corex Honeycomb.