How Is Aluminium Honeycomb Manufactured?
Aluminium honeycomb is a versatile material which can be used across a wide range of industries including rail, marine, automotive and more. At Corex Honeycomb, two types of aluminium honeycomb are available: standard hexagonal and Superflex. It comes in two alloy grades: 3003 and 5052, which can be delivered in full blocks or cut slices.
Two principal characteristics of aluminium honeycomb make it suitable for a world of applications – high strength and light weight. Aluminium honeycomb core is mainly used to sit between two skins to create a sandwich panel. A huge mechanical advantage is gained through the resulting rigidity of the panel in combination with its minimal weight.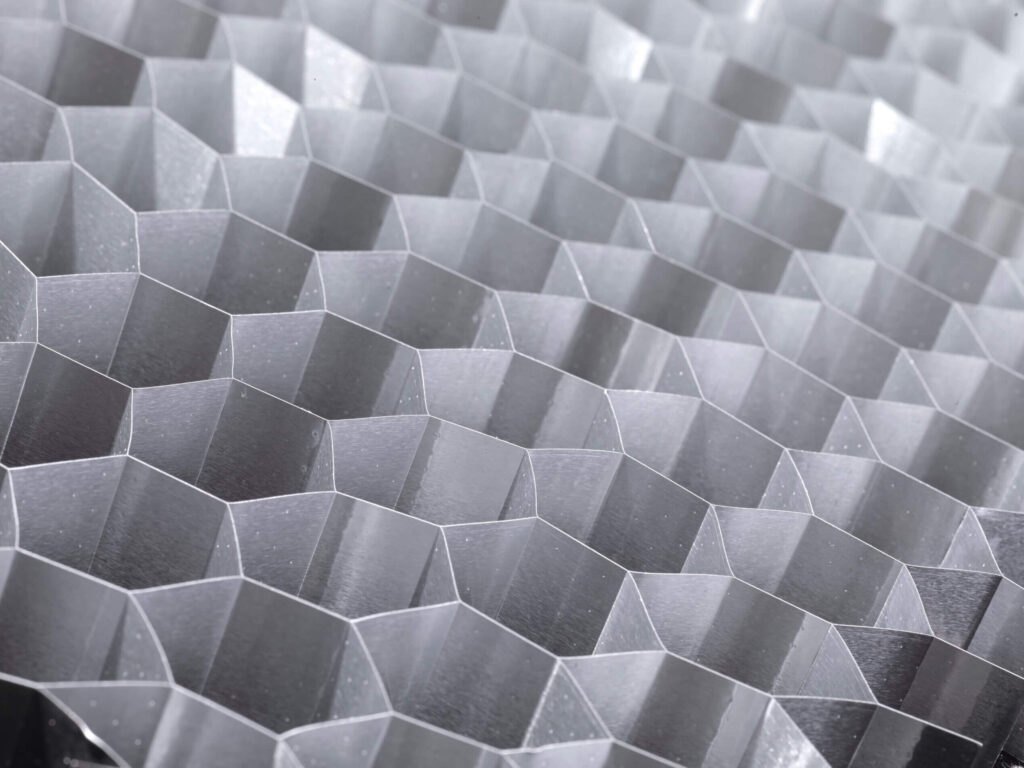 The Aluminium Honeycomb Manufacturing Process
The aluminium honeycomb manufacturing process is complex and consists of a number of different stages. First, large rolls of aluminium foil are delivered to our Cambridgeshire based factory, home to the only UK manufacturer of aluminium honeycomb. When ready for manufacture, the foil is passed through the printer where adhesive lines are printed on.
When the adhesive lines have been printed, the foil is then cut into sheets. The number and size of sheets will determine the L and W direction of the block. The machine then stacks these sheets ready to be moved into a heated press.
The press ensures the adhesive is activated and the sheets of aluminium are bonded together. Once bonded, a block of aluminium honeycomb is formed. Depending on the customer's thickness requirements, the block of aluminium honeycomb is then cut into slices.
Once the honeycomb block is in slices, it can be expanded which completes the manufacturing process. The block can, however, be left unexpanded should the customer want to expand it themselves. If panels are desired, the core can be bonded with specific skins to create bespoke composite panels. Flexible aluminium honeycomb follows almost the same process, but the sheets are aligned in a different way to ensure the honeycomb has the flexibility it needs.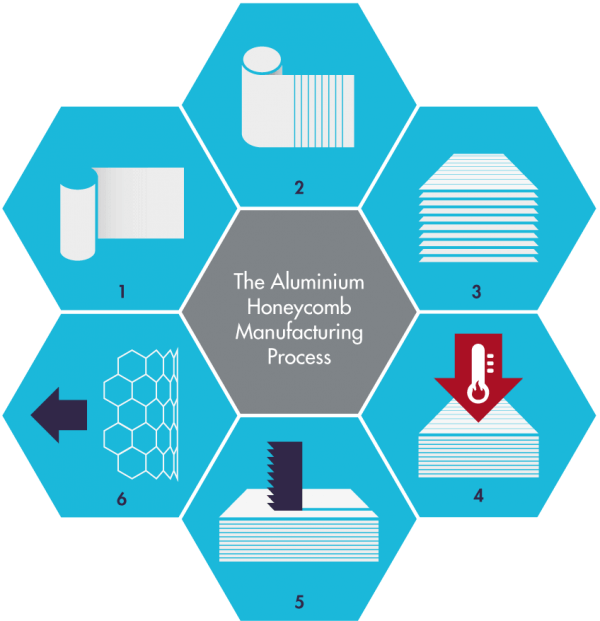 The aluminium honeycomb manufacturing process ensures the availability of multiple cell sizes, which range from 1/8" (3.2 mm) to 1" (25.4 mm) and the core can be provided in thicknesses from 3 mm up to thicknesses of 500 mm depending on the type and size of honeycomb. Thinner slices as well as thicker ones are available on request and depend on the honeycomb type.
To find out more about the aluminium honeycomb manufacturing process or our range of aluminium honeycomb products contact our sales team on +44 (0)1480 435302. Honeycomb core can also be bought online at the Corex Express shop.
This article was originally published by Corex Honeycomb.