nVent SCHROFF Presents FREE Webinar: Enclosures for Next-Generation Railway Systems
Implementing next generation railway technology, such as communication based signaling (CBTC, 5G) and the Internet of Things, will require railways to integrate advanced electronic systems and equipment into new and existing infrastructure. Next generation railway electronic equipment and systems must be able to withstand shock and vibration, exposure to the elements and other demanding conditions that are an intrinsic part of rail service. With an extensive product line and industry leading expertise, nVent is providing solutions that help railway and signaling system providers integrate next-generation railway electronics and electrical equipment.
Originally presented in September 2019, nVent SCHROFF would like to invite you to download this informational webinar that presents;
The shift towards next-generation rail telecom and other technology trends that are driving next generation railway systems
An analysis of practical challenges associated with integrating advanced electronic systems in the complex and demanding rail environment
Case studies that demonstrate how nVent SCHROFF products support next-generation  our railway customers overcome these challenges
Register HERE to Watch the Webinar
Also check out our recently published e-book that provides a more in depth look at retrofitting.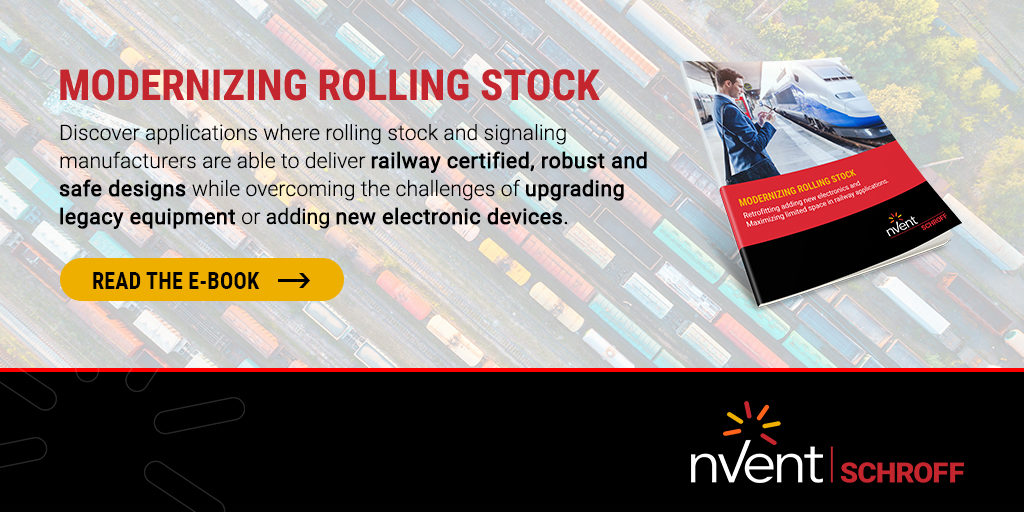 About nVent
nVent provides solutions that connect and protect critical railway infrastructure and systems, improving safety and reliability throughout the network. We offer innovative, high-quality products for critical electrical and electronic systems throughout the railway network. Through our powerful portfolio of brands that include nVent ERICO, ERIFLEX, HOFFMAN, RAYCHEM and SCHROFF, we provide electrical connection solutions for trackside and on-board applications, surge and lightning protection, trackside heating solutions, and enclosures for trackside signalling and on-board systems. Our portfolio of industry-leading products is designed to meet international railway standards. With a manufacturing and sales presence in every key rail market, we serve a global base of customers that includes railways, system integrators, rolling stock manufacturers and major rail equipment OEMs.