United Wagon Company's (UWC) model 13-6724 flat car has been certified by Russia's Federal Agency for Railway Transport and the company has now begun to fulfil its contract to supply Laude Smart Intermodal S.A. with 1,000 freight cars.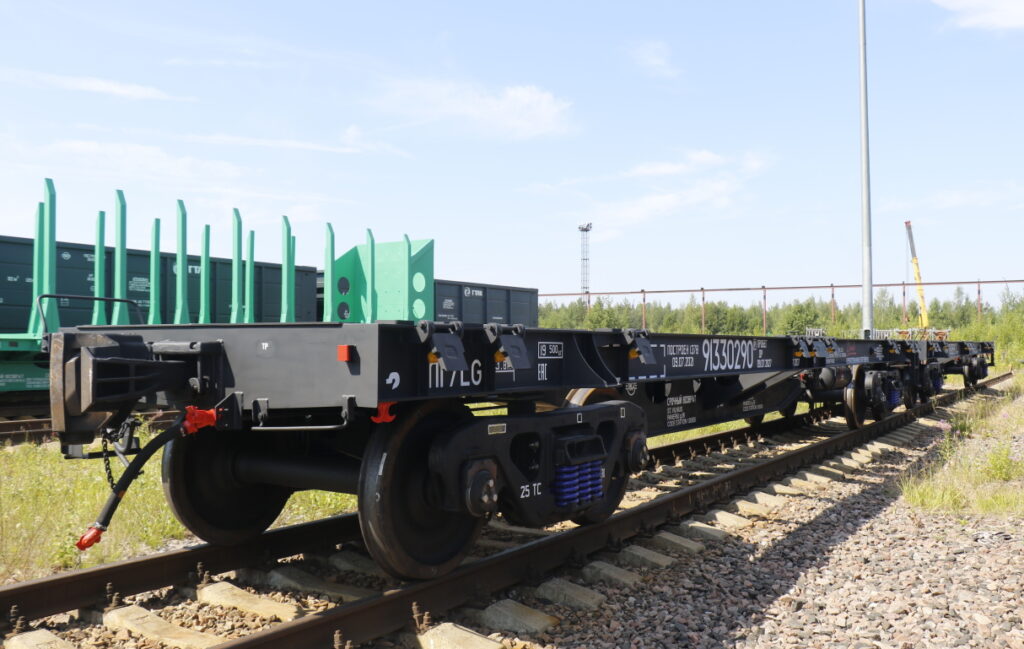 UWC and Laude Smart Intermodal signed a contract to develop the new flat car in autumn 2020. The car was designed by engineers from VNICTT, a part of UWC, with the prototypes built at UWC's railcar building site in Tikhvin.
By the end of last year, the cars had undergone a full set of stationary, service life and in-motion tests. In Q2 2021 all formalities to put the car into production were completed and model 13-6724 was awarded a technical regulations compliance certificate for rolling stock safety by the customs union.
Model 13-6724 is the first flat car in the 1520-mm gauge area to feature loading length of 46 feet and carrying capacity of 80 tonnes. It's intended for transportation of containers with gross weight up to 40t, primarily in cross-border traffic with European countries.
The economic benefits from moving freight containers on the UWC flat car come from its increased load capacity and higher container volume. The container can carry 13 pallets measuring 800 x 1,200mm and up to 10 standard pallets measuring 1,000 x 1,200mm, while a standard 20-foot container carries only 11 and 8 pallets respectively.
"The three years of cooperation with UWC have convinced us of the operational advantages of Tikhvin railcars. Our fleet successfully operates 40-foot flat cars, which run between Russia and Poland, and Sgmmns-type container cars for intermodal transportation within the European Union.
"UWC has sufficient production capacity to cover our needs as a customer, while it also meets delivery deadlines and, most importantly, ensures the required quality of the products supplied. We are considering further additions to our fleet with UWC railcars."