United Wagon Company Receives Flat Car Order from Kastamonu
Kastamonu, a major European wood-processing company, has placed a flat car order with United Wagon Company. This order is for 75 high-capacity flat cars that will transport timber.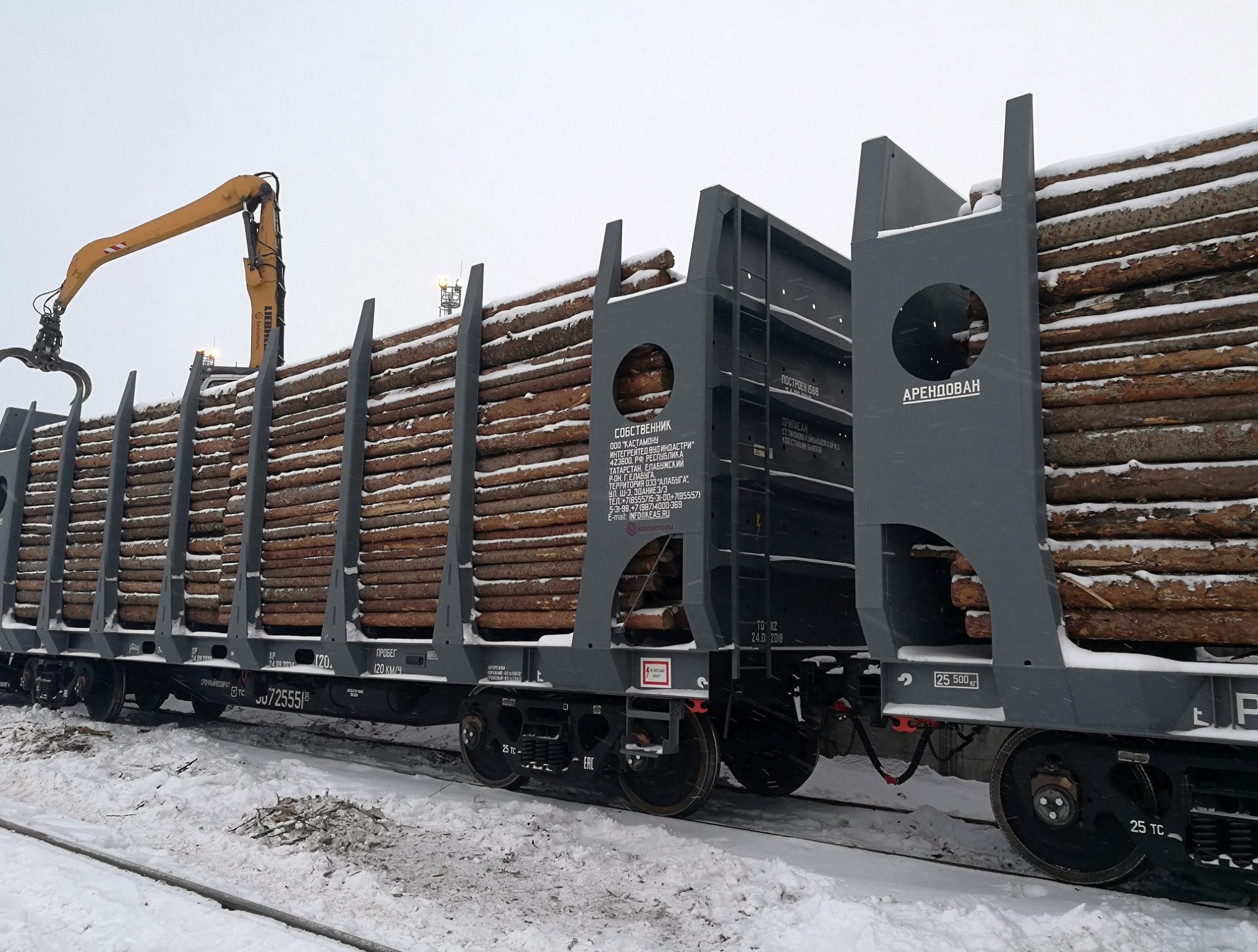 Timber Flat Car Order
The flat car models United Wagon Will deliver to Kastamonu are its 13-6852-02 and 13-6895 flat cars. The former is 40 foot in length and has a loading capacity of 122 cubic metres. UWC has already shipped 30 of these to Kastamonu. Over the coming twelve months then UWC will ship 45 of the 13-6895 flat cars to the client. These flat cars are 60 foot long and have a loading capacity of 155 cubic metres.
Flat Car Design Features
United Wagon Company says that these two flat car models have increased payload capacity and loading volume. This is important because operators using them can move bigger loads while paying the same transport tariffs. This naturally results in significant cost savings. For example, the 40-foot flat car can hold an additional 5 cubic metres of timber, compared to most conventional models on the market.
In addition, the two flat car models feature integral posts that are higher than those on standard models. The side posts are also rectangular in cross-section. UWC says this reduces unused volume and further prevents damage to cargo. Both the centre and side sills allow for easy inspections and maintenance works. The design of the vehicle floor is such that cargo residue does not fall on to the track. It also makes cleaning easier. Finally, the flat cars come with drainage holes that prevent moisture from building up. All of these features put together mean that each flat car only needs overhauling once every million kilometres. This cuts their life-cycle costs to just one third.
Development and Manufacturing of the Flat Cars
The All-Union Research and Development Centre for Transportation Technology designed both models. TikhvinSpetsMash is responsible for manufacturing them. United Wagon Company owns both of these entities.
Ali Kiliç, CEO of Kastamonu in Russia, said:
"There is currently no alternative to rail transport for long-term and large-scale supply of raw materials. UWC has a wealth of experience building specialised rolling stock so we were naturally interested to see what solutions UWC would offer. Kastamonu is increasing its production capacity year by year and acquisition of timber flat cars will reduce the risks associated with timber supply by rail. These specialised timber railcars are optimally suited to our needs. They enable us to substantially reduce time spent loading and unloading wood, and they minimise the risk of damage to the car during loading and unloading operations."