Union Pacific No. 844 Steam Locomotive on Tour
Union Pacific No. 844 steam locomotive will be touring in Colorado and Wyoming over the coming few days. As America's answer to the Flying Scotsman, No. 844 has undergone a three-year restoration process at Union Pacific's Steam Shop in Cheyenne, Wyoming in advance of a special tour. The restoration works included the removal of its gyrating mars light and the restoration of its boiler.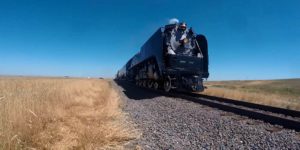 Following the successful test fire completed on 17 June 2016, No. 844 is scheduled to haul the heritage Denver Post Cheyenne Frontier Days train on Saturday, July 23, between Cheyenne and Denver. Public displays are scheduled for No. 844 in Greeley, Colorado, and Cheyenne, Wyoming.
No. 844 was built in 1944 by the American Locomotive Company for the Union Pacific Railroad. It was the last steam locomotive made for Union Pacific, as steam operations ended in the 1950s. It was converted from coal to oil burning in the fifties, and No. 844 hauled fright trains from 1957 to 1959. Its top speed is 190 km/h.
No. 844 was retained for special activities. It is now one of the oldest locomotives not officially retired by a major railroad. The locomotive has featured in PBS productions Shining Time Station, a Frontier Days special, and Ghost Trains of the Old West.
You can see details about the restoration of No. 844 on videos online via Union Pacific's Inside Track website.
If you're lucky enough to be in the area, you can see No. 844 at the following times and places:
Thursday, July 21 – 10:45 – 11 a.m. MT, 902 7th Ave. in Greeley
Saturday, July 23 – 8:30 – 8:45 a.m. MT, 902 7th Ave. in Greeley
Saturday, July 23 – 12:30 – 3:30 p.m. MT, 121 W 15th St. in Cheyenne
Saturday, July 23 – 6:30 – 6:45 p.m. MT, 902 7th Ave. in Greeley
Sunday, July 24 – 2:30 – 2:45 p.m. MT, 902 7th Ave. in Greeley
(Union Pacific would like train spotters to note that this time table is subject to change, so visitors should check with the website before setting off)