Arup to Improve Union Station Chicago
Amtrak, Mayor Rahm Emanuel and Chicago area transportation leaders from Metra, the Regional Transportation Authority (RTA) and the Chicago Department of Transportation (CDOT) have announced that design and consultancy firm Arup will be taking on the restoration of Union Station Chicago.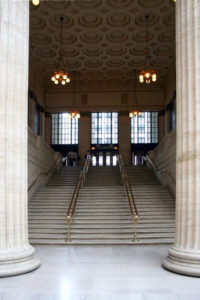 The project is jointly funded by Amtrak, the City of Chicago, Metra and the RTA. It will improve issues including passenger capacity, service, safety, accessibility, and mobility in and around the station. Arup will work closely with Amtrak and its partners to design expanded concourses and entrances, widening platforms, improving pedestrian passageways and improving ventilation, all meeting ADA regulations.
Arup's team to be responsible for the execution of Phase 1A has global experience in the design and operation of multi-modal transport hubs. It has overseen large-scale renovation and improvement projects which maintain operational capacity throughout the course of the works. The team will include local, regional and international experts.
The station was originally designed by Daniel Burnham. It opened in 1925 and has since become an iconic piece of architecture in the city. It has been the backdrop of many films, the most famous of which was probably The Untouchables.
Stephen Gardner, Amtrak Executive Vice President/Chief of Business Development, said:
"Chicago Union Station is an enormous asset to Amtrak as well as the City of Chicago. We are excited to begin this first phase of the efforts to improve this vibrant transportation hub, in collaboration with our partners. These efforts, combined with related efforts to advance new customer amenities and spur development of Amtrak's historic Station Headhouse and other assets, could catapult Union Station back into its role as a central anchor of the West Loop neighbourhood."
Rahm Emanuel, Mayor of Chicago, said:
"We are making Union Station a true transit hub and economic engine by doubling down on transportation investments that create jobs and transform neighbourhoods. Union Station provides an essential link to economic, cultural and recreational opportunities for Chicago's residents, visitors and businesses. Modernising Union Station is one of the ways we are working together to build a 21st century infrastructure to power Chicago's 21st century economy."
Martin Oberman, Metra Chairman, said:
"This work is essential to developing plans to address critical pedestrian flow and ventilation issues at Union Station, but we still have much work to do. We will need to work together to identify the funding to undertake this major public improvement in order to advance this work. I look forward to continuing to work with all of our partners to secure that funding so that we can transform this historic building into a modern facility."
Kirk Dillard, RTA Chairman, said:
"I understand the importance of this work on Union Station as both RTA Chairman and as a rider. I take Metra in and out of Union Station daily. It is a key transit station that serves Metra as well as CTA and now Pace Bus on Shoulder express riders. We must move this project forward both to restore this iconic building to its former glory and to assure the safety and comfort of our customers."
Mike Quigley, U.S. Rep. of Illinois, said:
"Union Station is a significant hub for commuter, passenger and freight rail not only for Chicago, but for the entire nation. I'm pleased that Amtrak is addressing its most immediate concerns like accessibility and mobility issues. In Congress, I will keep fighting on the House Appropriations Committee for transportation and infrastructure funding for the greater Chicagoland area so that it continues to be a city that Americans want to live in, work and visit."
John Eddy, principal and project manager at Arup, said:
"Arup is delighted to lead the team of experts that will take Chicago Union Station into the next century. This project will reflect the station's status as the major multimodal transit powerhouse for the city and region. We look forward to collaborating with Amtrak and the Project Partners to create an efficient, vibrant, and modern transit hub."