Hitachi Unveil Honolulu Metro Cars
Hitachi Rail have unveiled the first of 20 four-car vehicles which will run on the new Honolulu Metro. The Honolulu metro cars will be manufactured in Reggio Calabria in Italy, and furnished and fitted with all foreseeable technological innovations in the HRI site in Pittsburg, California. They will then be transported to Hawaii.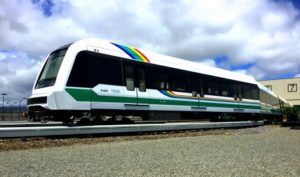 Honolulu Metro Cars
The Honolulu metro cars are automated and fitted with control systems provided by Ansaldo STS. The work will be completed as part of a Joint Venture Ansaldo Honolulu JV, who won the contract from HART (Honolulu Authority for Rapid Transportation). The contract is worth a total of $1.3billion dollars.
The vehicles are designed specifically to meet the needs of residents and tourists. They will have capacity for more than 600 people, with 120 seats and 68 flip-up seats and the remainder are standing room. They sport a green and white livery.
Maurizio Manfellotto, CEO of Hitachi Rail Italy, said:
"We deliver the first complete train, perfectly in compliance with the deadlines agreed with the customer. This order strengthens our global development plan, which sees us present in every partof the world, from the Americas to China and Taiwan. A development that is based on quality and reliability, with maximum respect for the needs of our customers, thanks to a production capacity that has reached very high levels."
Hitachi Rail Italy (formerly AnsaldoBreda) have been operating in the United States for several decades. Their most notable projects in that time have been the Washington metro, Los Angeles Metro, Atlanta Metro, and the iconic San Francisco Trams. Hitachi Rail Italy also contributed to the Boston and Cleveland metro systems. Hitachi Rail Italy has manufacturing facilities in Pittsburg, California and Dansville, New York, as well as the recently opened manufacturing plant in Miami, Florida.