UK: ScotRail Appoints First Female Engineering Director
ScotRail, a passenger train franchise which operates most rail services in Scotland, has announced the appointment of its first female Engineering Director; Syeda Ghufran.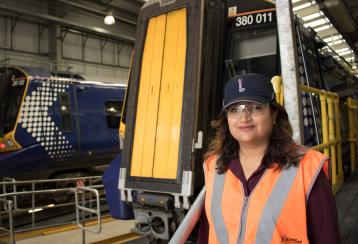 Ms. Ghufran joined ScotRail's Engineering Management Training Programme in 2010 and was appointed Head of Engineering Depots in 2013. In this role, for which she was also the first women in the position, she delivered several engineering projects for the franchise: train reliability modifications, fleet refurbishments, the roll-out of Wi-Fi, and the installation of Driver Advisory Systems (DAS), a GPS system which tracks the train's position and recommends the required speed to ensure trains arrive at stations on schedule.
Ms. Ghufran replaces Angus Thom, who was appointed Chief Operating Officer of the franchise earlier in 2018.
Ms. Ghufran said:
"I'm really excited to lead a great team of engineers who will help us deliver a great customer service, and build the best railway Scotland has ever had. I want to change perceptions and encourage more young women to consider engineering as a viable and rewarding career."
Mr. Thom said:
"Syeda has a strong history of delivering for ScotRail and its customers. I am delighted to welcome her to the executive team. I hope her appointment will encourage more young women and girls to consider a career in engineering with ScotRail."
The announcement of Ms. Ghufran's appointment coincides with International Women in Engineering Day (23 June) and the franchise also reports that 50% of its most recent intake of Engineering Apprentices are female.