The Chairman of Etihad Rail, His Highness Sheikh Theyab bin Mohamed bin Zayed Al Nahyan, recently undertook a site visit to review the progress of construction on Stage Two of the UAE national rail network.
This was followed by attending the signing of a new contract between CAF and Etihad Rail.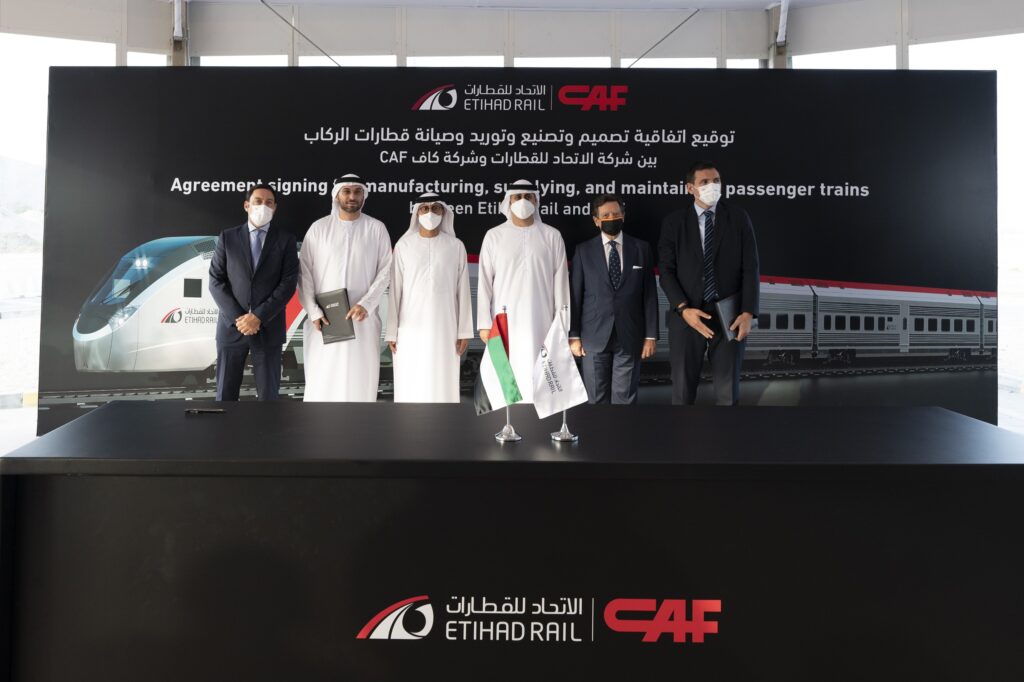 Stage Two is a 145-kilometre route that will link Sharjah to Fujairah Port and Ras Al Khaimah, surrounded by mountains on all sides.
As well as 54 bridges and 20 wildlife crossings, this section also has nine tunnels including the largest heavy freight railway tunnel in the Arab Gulf, 1.8km in length.
Excavation works for these tunnels was completed last November, two months ahead of schedule.
During his visit, His Highness inspected key landmarks on the project's route, starting with the rail bridge in Al Suyoh, Sharjah. He moved on to Al Bithnah bridge before reviewing tracklaying works across the nine tunnels that extend for 6.9km through Fujairah's Al Hajar Mountains.
The site visit was followed by a trip to the Sakamkam area of Fujairah for the signing of 1.2 billion AED (310 million EUR | 270 million GBP) agreement between Etihad Rail and CAF.
The event took place where the first passenger train station will be built, with the contract signed by His Excellency Shadi Malak, Chief Executive Officer of Etihad Rail and Josu Imaz, CAF's Chief Executive Officer Rolling Stock.
This agreement is for the design, manufacture, supply and maintenance of passenger trains, as per European standards, for the national rail network.
The trains will be equipped with the latest technologies to suit the landscape and climate of the UAE, which is key to ensuring high performance, efficiency and reliability.
They will also offer passengers modern amenities such as infotainment systems, charging stations and air conditioning.
His Highness said this agreement served as a major step forward in the development of the UAE's passenger transport services, in line with company's commitment to completing the national and strategic project on schedule, and according to the best criteria and practices.