Journey into Innovation: Explore ADLINK's Booth at Railway Forum Berlin 2023!
We are delighted to announce ADLINK's first journey at the 8th Railway Forum, taking place on September 6 – 7, 2023, at ECC Berlin.
At the Railway Forum, you will have the opportunity to explore our innovative AI solutions and newly launched embedded products designed specifically for the rail industry.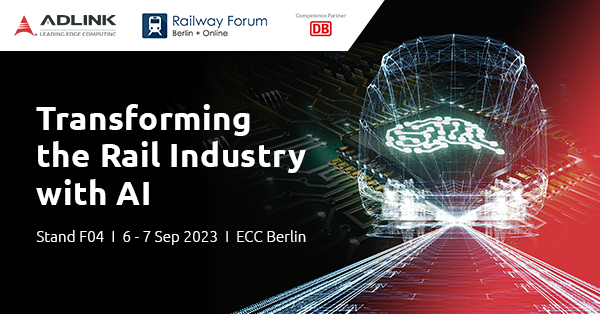 How ADLINK Is Transforming the Railway Industry With Its Rugged Edge AI Solution?
Core Expertise
Digitalisation at the edge, compliant with rail regulations and market specific.
Autonomous train functionalities, obstacle detection, iCCTV implementation, on-board and wayside servers, as well as predictive maintenance capabilities.
Agility
Extensive building blocks library, combined with strategic partnerships, facilitates rapid development and low total cost of ownership (TCO) for original design manufacturers (ODMs).
For decades, ADLINK has been empowering companies to solve real-world problems through cutting-edge embedded technology.
Showcased Exhibits
Discover how our rugged edge computing solutions, equipped with advanced CPU and GPU technologies, are driving the digital transformation of railways. Safety, intelligence, and reliability take center stage as we integrate AI seamlessly into operations.
Don't miss our showcased exhibits:
EN 50155 compliant AI-powered Video Analytics Systems
Modular CompactPCI/CompactPCI Serial Processing Platforms for onboard and wayside needs
IoT-enabled Edge Computing Solutions for optimized train station functionality
Our team of expert railway professionals will be on hand to discuss our exceptional design flexibility and manufacturing ODM services, trusted by top rail signaling providers globally. Details below.
Stand Number: F04
Date: 6 – 7 Sep, 2023
Venue: ECC Berlin, Germany
This content was provided by ADLINK.