Tram Train Enters Service Between Sheffield and Rotherham in a UK First
The first tram train entered service in England on 25 October 2018. It will operate between Sheffield and Rotherham. This project has come about thanks to the collaboration between Network Rail, Stagecoach Supertram, South Yorkshire Passenger Transport Executive and the Department for Transport.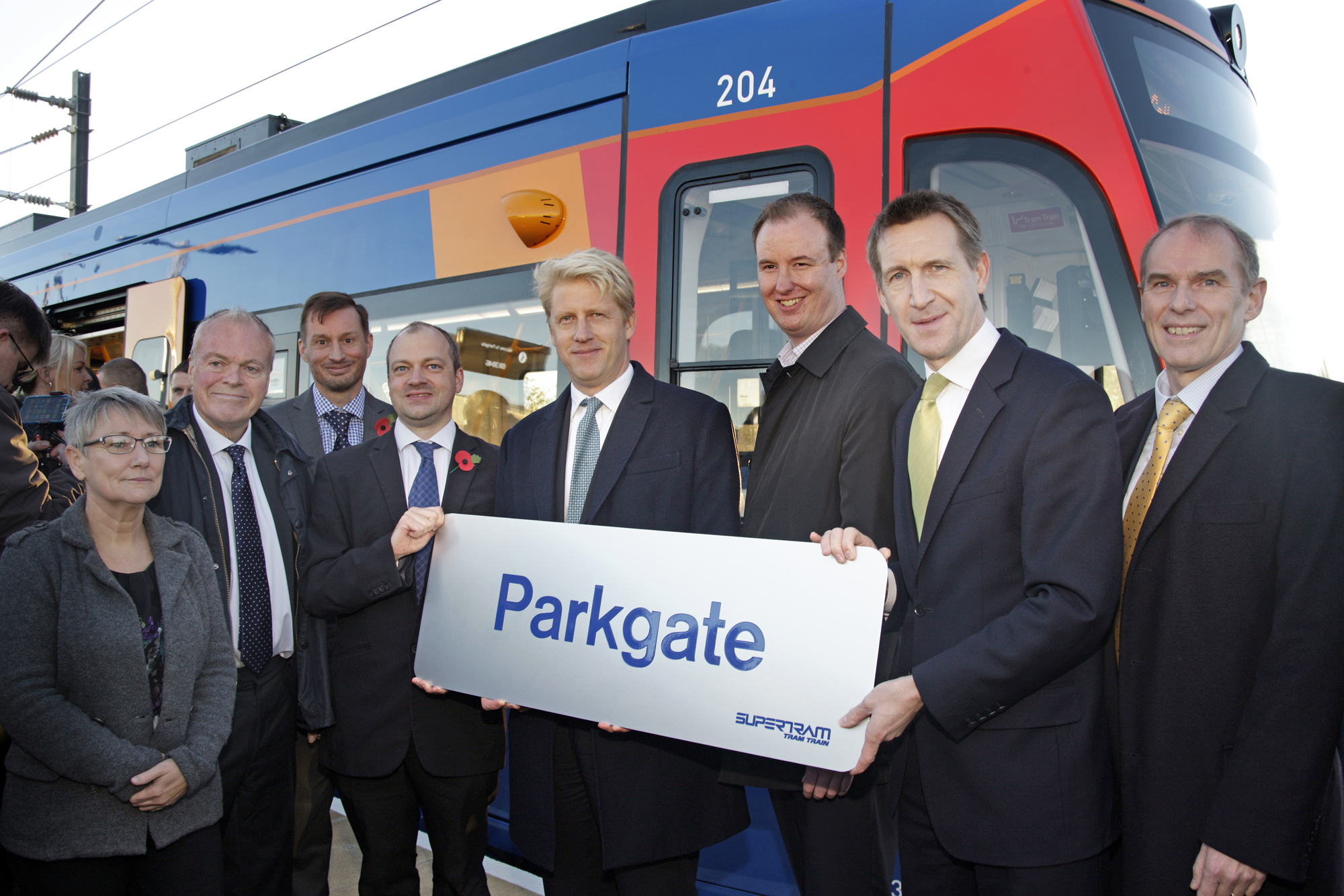 The implementation of this project comes after complex works to develop standards and infrastructure so that this rolling stock is capable of running on both regular railway lines and on Sheffield's tram lines.
Read: UK's First Tram Train Pilot Progresses
This tram train pilot will run for two years, during which customer satisfaction, passenger levels, reliability and cost will all be tested. If successful the tram train will then continue to operate as part of the Supertram service. The South Yorkshire Tram Train pilot also hopes to inspire other transport operators in the UK. The aim is for the benefits of this new type of transport to become clear so that other cities will request it. Tram trains already exist in several European cities.
Read: Alstom France: 32 Citadis Dualis Tram-Trains Ordered by Île-de-France Mobilités and SNCF Transilien
The tram train will switch between Sheffield's light rail lines and the Network Rail lines via a special junction – Tinsley Chord.
Jo Johnson, Minister for Rail, said:
"The first tram-train journey is a milestone moment that will give commuters cleaner, more frequent and more reliable journeys across Sheffield and Rotherham.

"This pioneering project brings together innovation, state-of-the-art technology and our existing infrastructure to give passengers better journeys. It lays the groundwork for ambitious transport schemes right across the country that should give commuters more choice."
Rob McIntosh, Route Managing Director at Network Rail, said:
"Id' like to thank the people of Sheffield and Rotherham for their patience while we developed, built and tested the Tram Train. The project has been a complex one and it is genuinely exciting to be ready to welcome the first passengers on board. Tram Train will bring new choices for travellers in this area, supporting jobs and the local economy. It's also important to us at Network Rail as the national infrastructure provider, as it gives us different options when we are looking to improve connections between communities across Britain."
Tim Bilby, Supertram's Managing Director at Stagecoach, said:
"We're so very proud and excited that Supertram and South Yorkshire have been chosen to pilot this state-of-the-art technology and we're delighted to be able to invite our first passengers on board today. We know that our passengers are as excited as we are about this launch and we can't wait to hear what they think about it.

"This Tram Train service offers a quick, environmentally friendly and good value alternative for this busy commuting route, and also opens up leisure and retail venues to people across the wider City Region."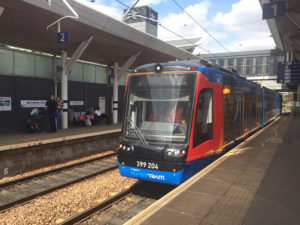 Tram Train Challenge: Creating a Dual-Operation Wheel Profile
Rail researchers at the University of Huddersfield's Institute of Railway Research designed the dual-operation wheel profile to enable trams to run on both tram lines and on regular railway track. David Crosbee and Professor Paul Allen from the institute worked with Network Rail to address this challenge.
An example: the broader wheel profiles that are customarily used on Network Rail track are unable to run on the grooved rails of the Sheffield Supertram, while the tram wheels are unable to negotiate Network Rail switch blades.
The researchers wrote an article entitled "Analysis of design and performance of tram-train profiles for dual-operation running" in which they said:
"Through an iterative process of stepwise refinement and assessment, the wheel profile tread geometry has been developed to provide a level of performance in terms of contact conditions, rail wear and vehicle behaviour that was similar  or better than the current SST [Sheffield Supertram] and Network Rail profiles. This ensures that the new tram-train profile will not have any significant impact on the asset life of the two infrastructures."