TE Connectivity to Showcase New Generation of Roofline Systems at InnoTrans
TE Connectivity (TE), a major player in connectivity and sensors world-wide, is launching a new generation of roofline systems at this year's InnoTrans. TE will showcase a prototype of the new modular roofline approach at their stand in Hall 12, Booth 210.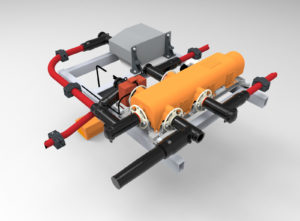 The individually engineered subsystems will be replaced by low-profile, low-weight and high-reliability modules. The creation comes in response to a demand for subsystems that are lightweight but durable in ruthless environmental challenges.
TE Roofline Systems
TE produced its new modular approach to roofline systems so that manufacturers can use a single design for all operating environments. It combines reliable operation with low profile and lightweight design that can play a role in limiting the overall height of double decker rolling stock and most importantly, improve aerodynamic performance.
Roofline systems transmit electrical power at high voltage from the catenary line to the traction transformer and include components such as the pantograph, surge arrestors, circuit breakers, power cables, insulated bushings and metering transformers. Their reliability can be reduced by humid, polluted and low-pressure conditions. This has led to rolling stock manufacturers re-engineering roofline systems to withstand each operator's environment.
TE will also be highlighting its products and systems for trackside, power and signal, and cable identification solutions at this year's InnoTrans.