National Express c2c Green Lighting Launched
UK rail operator c2c (owned by National Express Group) has announced an energy-saving initiative at its stations in the south of England, which will save enough electricity to power its c2c fleet for a week. New LED lighting at the 26 stations operated by National Express. The National Express c2c green lighting will not only provide better visibility, but also consume less energy.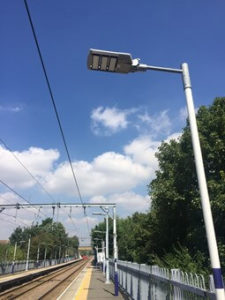 Each light will be equipped with an intelligent control sensor which will automatically turn the light off when there is no one nearby, or when there is sufficient daylight. The new lighting system will conserve around 1.3mkWh annually. This is the equivalent of 700 tonnes of CO2. This will provide enough energy to operate c2c's trains for in excess of 100,000 miles, or 2,500 journeys. This is the number of train services operated by c2c every week.
c2c Managing Director Julian Drury, said:
"These new LED lights provide the ideal combination of a bright and safe station environment with reduced light pollution, lower energy consumption and less waste. The lights are now in place at more than half of our stations, and we'll have finished the whole programme so that everyone can enjoy the benefits long before the clocks go back in October."