United Wagon Company has signed a contract with mineral fertiliser manufacturer EuroChem for the supply of tank cars of the model 15-6901.
UWC will deliver the tank cars to Novomoskovskiy Azot, part of EuroChem Group, by the end of 2020. They will be used to transport concentrated nitric acid.
Each tank car, which sits on 25t axle-load bogies, have a loading capacity of 75t and a tank volume of 54.78 cubic metres. UWC says these figures will allow each tank car to carry 33% more per car compared to standard models available on the market.
Concentrated nitric acid is a highly hazardous commodity. Therefore, the tank is made of high-grade aluminium that has better characteristics to the aluminium usually used in rolling stock. The tank is manufactured using a technique called friction stir welding, which has advantages over fusion welding. For example, it significantly reduces the chances of joint defects, it keeps harmful environmental impacts to a minimum, and it raises the joint's strength and flexibility indicators by 10 percent compared to the material's original state.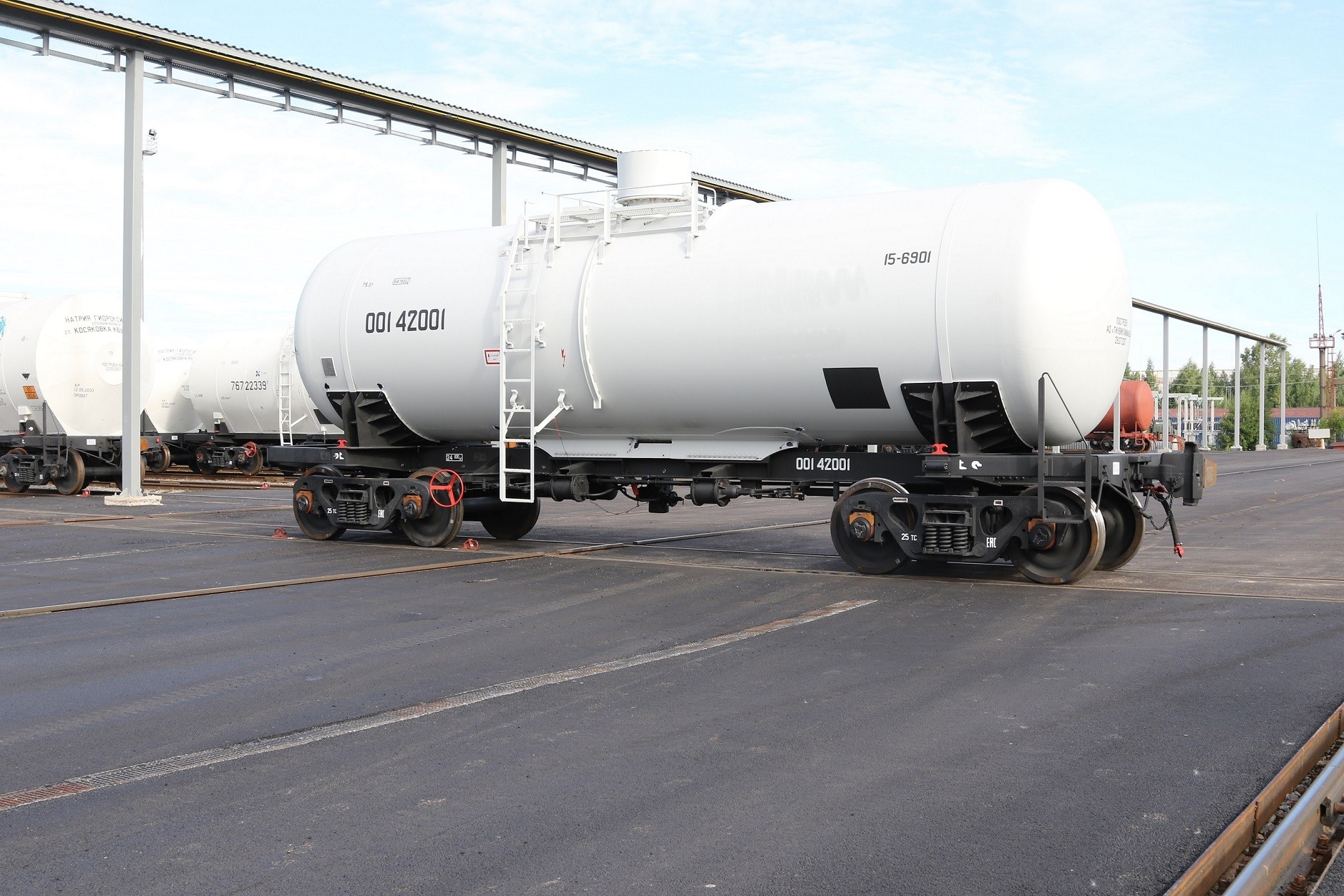 Both the tank and the discharge system are airtight. The valve itself has a safety membrane. Further, the discharge valve is lined with an acid-resistant polymer to ensure that the freight is safely isolated from any personnel and the environment. There is an option for the tanks to be fitted with radar level-sensors. Such sensors would allow personnel to measure accurately how full the tank is for a wide range of product temperatures in a chemically active environment.
The 15-6901 tank car has a service life of 40 years. The 18-9855 bogie has a maintenance interval of either 1 million kilometres or 8 years.
"Tank cars for transporting concentrated nitric acid are among the most technically advanced products in our company's portfolio and in fact offer a unique transportation solution for today's domestic market. The product represents the successful synergy between progressive thinking and modern production sites. UWC acted as the developer and manufacturer of the rolling stock, while Arconic SMZ, the largest Russian enterprise manufacturing high-tech semi-finished aluminium products, supplied corrosion-resistant aluminium plates, and Sespel, a leading manufacturer of specialized equipment based in Cheboksary, carried out welding work on the tanks. This partnership has allowed us to develop effective rolling stock that can respond to the new market realities and meet the high standards of the transportation industry."
There are currently around 200 tank cars operating in the 1520mm area that have a lesser tank volume and loading capacity, which date back to the 1980s. The average tank car is 32 years old and up to 80 percent of them will likely be decommissioned because they will have physically depreciated too much.
Also read: