UWC and URALCHEM-TRANS Sign Maintenance Infrastructure Agreement
United Wagon Company (UWC), one of the world's biggest manufacturers of freight cars, has announced it has signed an agreement with logistics and transport specialist URALCHEM-TRANS to develop maintenance infrastructure.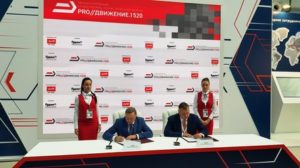 UWC and URALCHEM-TRANS signed the agreement at the international transport and logistics forum PRO//Motion.1520. The two companies wish to further develop shared infrastructure for the repair and maintenance of a new generation of freight cars, which are being manufactured by UWC at its Tikhvin Freight Car Building Plant.
This service centre is to be established at the Murashi station repair depot – one of fifteen facilities to date to have been given the status of 'top-class service centre' – along the Gorky Railway (a URALCHEM-TRANS subsidiary) network. This depot is already familiar with servicing Tikhvin freight cars that are owned by URALCHEM-TRANS's parent company URALCHEM HOLDING as it has had permission to perform current uncoupling repairs and stock spare parts for bogies with added axle load since 2016.
Vsevolod Kovshov, Director URALCHEM-TRANS, said:
"We are developing our railcar fleet in accordance with URALCHEM's strategy for systematic efficiency gains in logistics. The fleet is being updated and expanded solely by the acquisition of cars with increased payload capacity, and UWC is one of our largest and most reliable suppliers of such cars. We intend to further develop cooperation with UWC in order to increase the share of new-generation cars to 25 percent of our fleet by 2021 against 14 percent at present. As well as the economic advantages associated with the innovative bogie design, payload capacity and body space, the cars compare favourably with typical models by overhaul period. These factors together mean that we can substantially reduce the cost of delivering our products to customers. Freight cars supplied by UWC represent a large part of our new-generation car fleet. Diversifying the functions of our service centre so as to enable it to do all types of routine maintenance on  new-generation cars is a real step forward that will further reinforce the security of shipments provided by our company."
Dmitry Losev, Deputy CEO for Technological Development UWC, said:
"The whole 1,520mm gauge area is now covered with the service of current uncoupling repairs for freight cars made by UWC. Our holding is now working to enable companies to carry out scheduled maintenance by establishing top-class service centres. UWC is working closely with its partners to help create such facilities and to train personnel who can operate them."