Switchio and Enghouse Win Contract to Digitalise Payments in California's Public Transit System
In a new strategic partnership, Switchio, a division of the Czech-based Monet+, and Canadian company Enghouse Transportation, a division of Enghouse Systems, have secured a contract to bring contactless EMV payments to public transit in California.
The tender was issued by the California Integrated Travel Project (Cal-ITP), a unique state-wide initiative formed in 2018 with the aim of simplifying public transportation with seamless trip planning and fare payment across different modes and services. One of the largest economies in the world, California is home to the most complex public transportation system in the United States.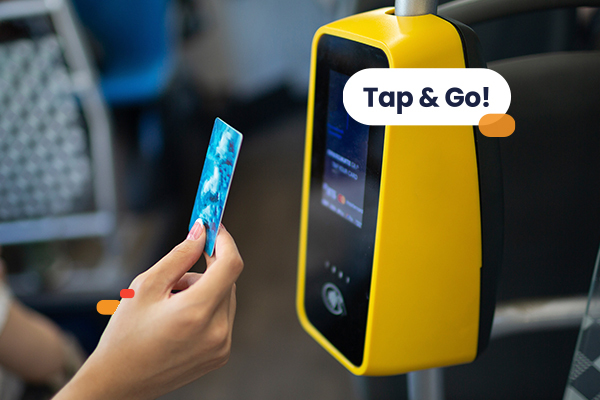 By deploying Switchio's innovative payment gateway, which encompasses a number of modular solutions for fast and simple implementation of cEMV payments, riders in California will now be able to pay their fares using an open-loop system accepting bankcards, mobile wallets, and even smart wearables.
Switchio is the ideal platform for addressing many of the key challenges affecting users of California's public transportation network, which is highly disaggregated and costly to operate. It also has a reputation for being complicated and confusing to use, and the state has come under pressure from competition to maintain ridership.
cEMV Payments the Way Forward
Public transport providers around the world are catching what experts see as the wave of the future by introducing cEMV payment systems. In a world where the majority of consumers are already paying for purchases with their bankcard or mobile phone, it makes sense that they want the same convenience in public transport, and that can only delivered with an open-loop fare payment system.
A prime example of the speed with which riders are prepared to transition to cEMV payments can be found in the Czech Republic's third largest city, Ostrava. The transit authority began introducing electronic payment terminals on buses and trams in 2016, and by 2018 more than 50% of the city's commuters were paying their fares by bankcard. Today, the fare system is fully electronic, and more than 70% of riders use their bankcards, while the rest rely on SMS or prepaid commuter cards.
Accelerating the Digitalisation of the American Market
The new partnership between Switchio and Enghouse is ideally poised to help accelerate the digital payment revolution in the North American public transportation market. Switchio boasts an impressive smart cities portfolio, having previously implemented its unique payment gateway in public transport networks in Europe, Africa, and Latin America.
"We're very pleased to embark on this new collaboration with Enghouse. We've already established a presence in the Americas with a successful implementation in Guatemala and another currently underway in Chile, and we now look forward to introducing our innovative digitalisation solution to the North American market."
Likewise for Enghouse Transportation, which is primarily known for its successful transit software solutions in the Netherlands and Central and Eastern Europe, expansion to the American market marks an important milestone in the company's evolution.
"As we expand into the U.S. market, we have strengthened our team. Our strategic cooperation with Switchio bolsters our ability to deliver transit solutions in California and other markets in the United States."
About Switchio
Switchio is a powerful software platform that lets public transport operators manage multiple open-loop electronic payments in a variety of different ticketing modes under a single system. Delivered as a comprehensive white-label solution for contactless passenger ticketing, it brings operators substantial savings while elevating the passenger experience to new levels of convenience.
The ready-made gateway guarantees flawless interoperability with third-party solutions, meaning public transport operators enjoy unmatched independence and flexibility not only in choosing which hardware vendors and banks to partner with but also in switching banks on the fly in order to optimise their fully digital, paperless ticketing system. It also supports customised offerings to passengers and integration with third-party applications for greater viability of the solution as a whole.
Switchio delivers modular solutions to clients around the world for fast, secure EMV payments of public transport fares. The solution accelerates passenger check-in while producing input data that is highly valuable in the continued advancement of smart cities.
In addition to transport, Switchio is also developed for applications in the key sectors of retail, parking, and petrol stations. At its core is a secure payment switch that gives businesses the freedom to partner with the acquirer and hardware provider of their choice.
About Enghouse Transportation
Enghouse Transportation is an innovative provider of end-to-end electronic ticketing technologies that also provides transit agencies and operators with improved passenger experiences and cost-cutting hardware and software solutions. Customised to the needs of each client, Enghouse Transportation delivers expert solutions in automated fare collection (AFC), sales and service, and back-office systems. For more information, please visit our website at www.enghousetransportation.com.