Three former US Transportation Secretaries, along with several labour unions, organisations, and businesses have signed a letter urging California State Senate and Assembly leaders to approve 4.2 billion USD in bond funding for California's High-Speed Rail project.
Upon completion, the electric high-speed railway will connect Anaheim and Downtown Los Angeles with San Francisco via the Central Valley, aiding the nation's efforts to decarbonise the transport industry.
The letter argues that high-speed rail is the most viable solution for overcoming California's current dependency on oil, and the funding is therefore critical for advancing the state's sustainability goals.
"The ongoing spike in gas prices shows that California voters were wise to vote in favor of Prop 1A in 2008. High-speed rail is how we break free from oil – as well as the enormous burdens it places on consumers, communities and the climate."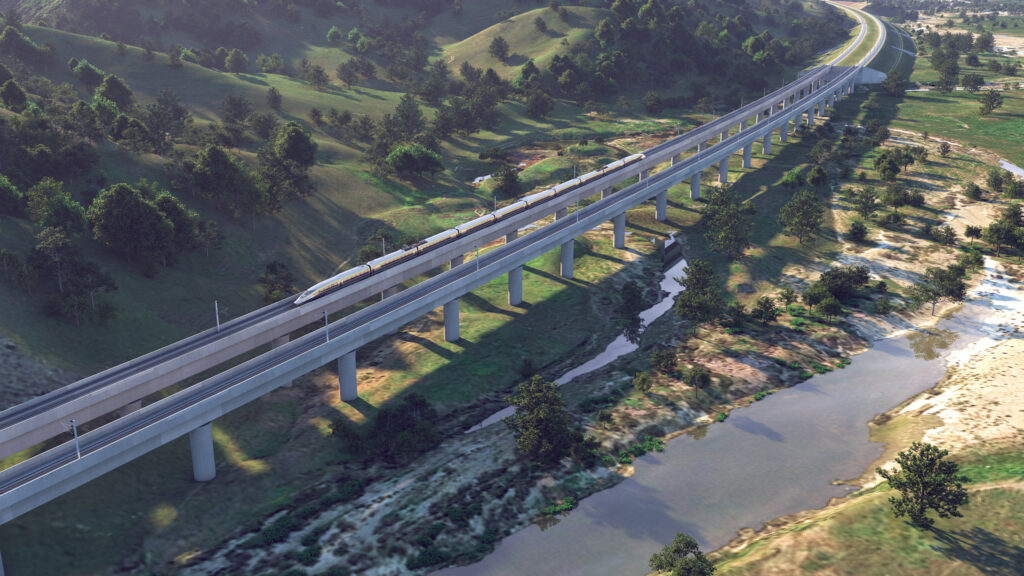 The project was included in Governor Newsom's proposed FY 2022–2023 budget. The letter argues that approving the proposed funding could mobilise even more financial support at the federal level, including billions of dollars in competitive grant opportunities from the Bipartisan Infrastructure Law. This would accelerate work on the line's initial segment in the Central Valley, while also advancing critical construction in the Los Angeles Basin and the Bay Area.
The letter also notes that the majority of California voters continue to support the construction of the high-speed rail project, citing a new Los Angeles Times – Berkeley poll in which 56 percent of registered voters in California stated they want to continue building the high-speed rail project.
The letter was signed by former US Department of Transportation Secretaries Ray LaHood, Anthony Foxx and Norman Mineta, as well as California transit advocate Rod Diridon.
In addition, other signatories included AECOM, the Bay Area Council, the Brotherhood of Railroad Signalmen, the International Union of Operating Engineers, Laborers International Union of North America, National Conference of Firemen & Oilers, Northern California Carpenters Union, Silicon Valley Leadership Group, Progressive Democrats of America, Rail Passengers Association, Teamsters Rail Conference, Transportation California, and the US High Speed Rail Association.
"This letter from major national unions, public interest groups, businesses, and public servants expresses our conviction that now is the time to turbocharge work on this vital project."
The US High Speed Rail Coalition has sent the letter to state Senate Pro Tempore Toni Atkins and Assembly Speaker Anthony Rendon.