Stadler to Supply 71 Trains to the Wales & Borders Franchise
KeolisAmey, which was awarded the Wales & Borders franchise and the South Wales Metro service by the Welsh government, has ordered 71 trains from Stadler, which are set to become operational from 2022 onwards.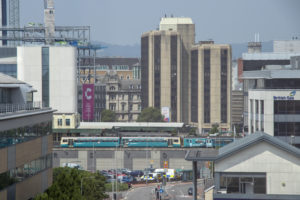 36 three-car CITYLINK tram-trains and 35 FLIRT trains will be supplied to the operator. The CITYLINK trains will run between Cardiff and Treherbert, Aberdare and Merthyr Tydfil. These tram-trains will use both 25kV and battery power.
Of the 35 Stadler FLIRT trains 11 will be diesel-powered and 24 will be tri-mode units, meaning they are able to run on diesel, electric overhead wires and on battery power. These tri-mode units will be supplied in two configurations: seven three-car trains and seventeen four-car trains.
The tri-mode trains will provide a link across the city, connecting the Vale of Glamorgan with stops to the north of Cardiff. To achieve this, the trains will use diesel power to the south of the city and electricity to the north.
Stadler believes the use of batteries on trains is both innovative and cost-effective as it can deliver a fully electric and therefore environmentally friendly service north of the Welsh capital. Batteries are a smart solution as they can continue to power trains electrically even where electrification of the lines has not yet taken place. In this particular case they also mean that costly infrastructure modifications to 55 of the bridges on the planned route will not be necessary.
In addition to increasing the number of trains running on the network, they will also increase capacity by being longer with more seats, while still exhibiting designs aimed at maximising passenger comfort. All seats will come equipped with power sockets. Furthermore the trains will feature air-conditioning throughout and large passenger information screens. The trains will have level boarding and come with storage space for up to six bicycles.