St. Petersburg Places Order for Stadler Metelitsa Trams
The LLC Transport Concession Company in Saint Petersburg has placed an order for 23 Stadler Metelitsa Trams. It is the first sale of Stadler's broad-gauge tram in Russia. A large part of the manufacture of the trams will be undertaken at Stadler's Minsk factory and in Switzerland. The first six vehicles will be delivered by the end of July 2017.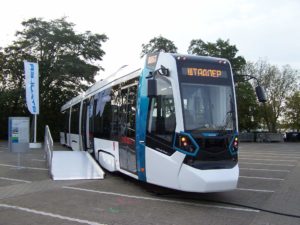 Stadler Metelitsa Trams
The Metelitsa tram premiered at the 2014 IIHF World Championship in Minsk, and has since been toured around a number of cities in Russia, where it won a people's prize at a tram parade in Moscow. There are numerous tenders active in Russia at the moment for broad-gauge trams, which would equate to several thousand trams, and Stadler is hopeful that this order will breed success in other cities. The tenders will be announced over the coming months, with an eye on the provision of public transport for the 2018 FIFA World Cup.
The TCC is currently undertaking the development and construction of the tram network in the Krasnogvardeysky District in east Saint Petersburg. The Stadler Metelitsa trams will start operating passenger services on this network in August 2017.
The trams themselves deliver high standards of comfort for passengers and staff. They are three-carriage, low floored with five double-leaf doors on both sides of the tram for ease of embarkation and disembarkation.
Articulated joints in the bogies minimise noise and maximise comfort throughout the journey. The interiors feature separate areas for prams, wheelchairs and bicycles. They are also bidirectional, 33.45m in length, with 66 seats and a capacity of 370 passengers in total.
Peter Spuhler, Owner and Group CEO of Stadler, said:
"We are delighted to have been awarded this contract and hope that our Metelitsa tram will help us win further tenders in Russia."
This contract is significant for Stadler, as it will utilise its facility in Minsk which had previously been underused following the oil and gas crisis and the impact on the rouble. This latest order will alleviate pressure on the facility but further deals need to be struck to bring the facility up to full capacity. Stadler is currently looking at options relating to the relocation of contracts currently being filled in Central Europe to Minsk.