United Wagon Co. to Mass Produce Ammonia Tank Cars
Russia's leading manufacturer of rolling stock, the United Wagon Company, has announced the launch of the mass production of ammonia tank cars with a projected annual production of up to 1,000 railcars. The ammonia tank cars have been developed by All-Union Research and Development Centre for Transportation Technology.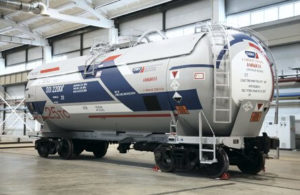 The ammonia tank cars will be equipped with a 92.7 m3 tank and an innovative bogie to sustain an increased axle load. It will be able to transport a maximum of 60.2 tons. This increase is 10 tons more than a standard 74 m3 tank analogue, which will reduce the size of the fleet by around 20% whilst maintaining the same capacity. The larger diameter of the tank will give it a greater capacity. The ammonia tank car has shady shielding which means it can safely transport ammonia at temperatures below -25oС.
The ammonia tank cars also carry with them a guarantee that they will operate for eight years between repairs, which gives them an advantage over their nearest competitors. The life-cycle costs of the railcar is reduced by up to three times. It is designed to operate for as long as 40 years.
The mass production of the tank cars will be undertaken at TikhvinСhemMash (CJSC plant). The facility has a certificate from the Russia's Federal Budgetary Organisation "Register of Certification on the Federal Railway Transport", confirming its compliance with Technical Regulations of the Customs Union 001/2011 On Safety of Railway Rolling Stock.
There is currently a high demand for chemical tank cars, bolstered by a growth in cargo and since current fleets are suffering wear and tear and are outdated. Russia's current fleet of ammonia tank cars is around 5,700 strong, with around 30% of the fleet expected to be retired by 2020, leaving a significant gap in the market this mass production is expected to fill.