United Wagon Co Supply Grain Hoppers
Russia's United Wagon Company have been commissioned by JSC United Grain Company to supply 1,500 grain hoppers with a load space of 120 m3. The first batch of wagons will be delivered as soon as possible.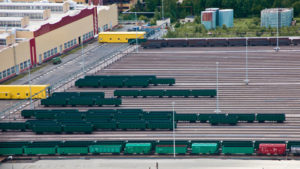 The grain hoppers will be built at United Wagon Company's Tikhvin Freight Car Building Plant. The hoppers will be mounted on bogies with a 25 tf axle load and a minimum loading capacity of 76 tons. This will enable the transportation of a range of grains. The wagons will also be low maintenance – with repairs scheduled at eight year, or 800,000km intervals. This will reduce the wagons' life cycle costs. The grain hoppers will be absolutely compatible with existing infrastructure and can be operated at any loading and unloading terminals.
United Grain Company will form its own fleet as part of its long-term development programme, which oversees such activities until 2020. United Grain Company's fleet will operate in the Southern and Eastern Grain Corridors where it is undertaking modernisation works, specifically on Novorossiysk Grain Plant's facilities and a Far Eastern grain terminal in Zarubino port. The project, costing around €66 million, will see United Grain Company's fleet to expand to 8,500 rail cars and a freight turnover of around 10 million tons a year.
Marat Shaidaev, Director at JSC United Grain Company, said:
"With a fleet of its own, we will become a stronger competitor and improve our logistics performance, with our infrastructure facilities such grain elevators and port terminals to enjoy steady traffic of freight."
Roman Savushkin, CEO at RPC United Wagon Company, said:
"We are happy to become partners with UGC. More and more leaders in different industries choose our railcars for their transportation solutions. We are glad to see the technical and economic advantages of our products duly appreciated. The market is changing: the focus is now made on efficient innovations."