SNCF Presents Stylish New TGV Oceane
SNCF CEO, Guillaume Pepy, recently presented the new interior design for the TGV Oceane. The unveiling took place at Paris' Montparnasse-Vaugirard station, in the presence of Florence Parly, Executive Director SNCF Voyageurs and Rachel Picard, Director of General Expedia. The first TGV Oceane will travel towards Bordeaux and Toulouse as of December 11 2016.
Comfortable, Convenient and Better Connected
Featuring 556 seats, including 158 in 1st Class and 398 in 2nd class, and 22% more than a TGV train Atlantique, the new TGV Oceane will travel up to 320 km/h. The new 1st and 2nd class seats were designed and conceived for the needs and uses of travellers according to particular changes in their requirements, their habits and morphology. It is a true bubble of comfort and privacy!
Upon boarding these trains, travellers can relax with a total revamp of warm colours and materials including wood and leather, bringing a fresh atmosphere and comfort to all.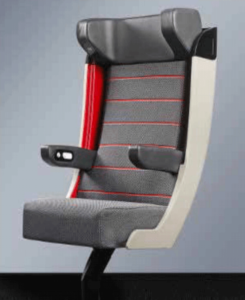 Travel in 1st Class
Experience privacy and tranquility and work, read or rest in the best conditions whilst travelling 1st class.
The ergonomics of the new seat has been adjusted to changes in morphology of travellers and exudes a personality with its natural materials like pure wool knitwear, leather and wood. This space offers a pleasant and convenient working environment, with a major innovation: an integrated area in the seat designed to fit and charge computers through individual USB's connected to electrical outlets.
Finally, for a totally innovative and unique design in France, 9 out of 10 travellers will travel in the direction of travel, as
all 1st class seats can be swivelled to face the direction of the arrival destination.
Travel in 2nd Class
The customer immediately receives a new feeling of comfort thanks to better ergonomics and a generous storage volume. Travellers will enjoy a wider shelf with additional storage presenting an ideal desk space or somewhere for your tablet! Added to the seats are proximity connections offering individual USB's and electricity for two travellers. Finally, in some rooms, a bench of five seats facilitate for group travel.
TGV Bar Area
The bar is designed with natural light and materials like wood and Corian © white through leather, contributing to the enhanced space for the traveler. The real wooden bar, large and airy, presents domestic codes of welfare and comfort. Functional and dynamic, with a long high side table, the bar offers a more relaxed atmosphere for friendly consumption.
See the new TGV Oceane circulating on the Paris-Bordeaux-Toulouse below!