New French Mass Transit Academy
Keolis and Transilien announced at the European Mobility Exhibition that they will be creating a French Mass Transit Academy. The academy will be dedicated to SNCF Group employees to equip them with the professional skills to develop and operate mass transit systems in large cities. The move is in line with growth in the area of urban mass transit.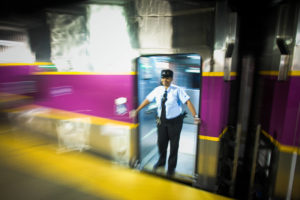 At the European Mobility Exhibition in Paris, the Keolis Group Executive Chairman and Alain Krakovitch, CEO of Transilien, made the announcement. The academy will be led by Cécile Derville, and open in October on a dedicated campus.
Initially, modules on offer will be aimed at SNCF Group executives (SNCF Transilien network and Keolis) to enhance their knowledge and skills relating to the broad range of professions in mass transit. The purpose of the academy is to make SNCF's business expertise cohesive, accessible and with the added benefit of external knowledge. There will also be an Academic Chair.
The Future is Mass Transit
Mass Transit is a growth area, 555 cities in the world have a population greater than one million people. Approximately five billion citizens will live in cities by 2030. Keolis already operates 44 mass transit lines internationally. These include suburban train networks in Boston and Washington in the USA< and automated metro systems in London, Lille and Rennes in Europe. Keolis Group is also due to launch metro networks in Hyderabad and Shanghai in Asia.
Transilien's experience in the Greater Paris Region combined with Keolis' international expertise gives SNCF Group the clout to win international bids. The flare and individuality of the Group's ethos pertains to all areas of work – including new station design, passenger information, rolling stock traffic management, automated control and driving and network maintenance.
The new Mass Transit Academy will give both parties the cutting-edge in innovation in the international railway sector as it relates to mass transit.